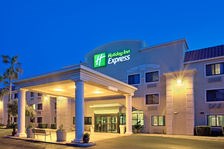 Our constant endeavor is to innovate and introduce new parking options.
Tucson, AZ (PRWEB) November 27, 2013
Greenbee Parking has announced new discounted TUS airport parking rates (http://www.greenbeeparking.com/ARIZONA/TUS) for all travelers using the Tucson (TUS) airport. These new deals will provide different parking options to all their customers, whether they are booking the space for long term or short term, business or leisure. For a busy airport like TUS there is always demand for more parking opportunities despite the excellent facilities that the airport is known for. Now with private entities like Greenbee Parking, the parking choices are more abundant for everyone. They have brought forth the options of easy online bookings, new age partnerships and affordable rates without coupons or special deals which have helped to take away the parking blues for travelers here.
"Our constant endeavor is to innovate and introduce new parking options so that we can offer optimum value to all our customers," said Christine Cooper – Marketing Coordinator, Greenbee Parking. "These new discounted TUS airport parking rates are yet another example of what we have been able to achieve towards this very goal. Now we can offer all our TUS customers amazingly affordable deals round the year."
Tucson International Airport Parking Information
Tucson International Airport is not only a busy airport but one which has a rich aviation history and heritage behind it. Till this day, TUS airport authorities have kept the tradition alive and the airport is renowned for its great infrastructure and impeccable customer service. It sees a high volume of commercial travel, both business and leisure and heavy influx of passenger footfalls to and from Mexico and other South American nations. Overall, the annual passenger footfall is over 3.5 million, a figure which shows why there is a massive restructuring project planned for the airport. The airport management has also responded to the demands for expanded parking and made provisions for major improvements. They have received further support in this endeavor from private providers like Greenbee Parking who have introduced many more innovative options for travelers here. Their latest web upgrades have announced cheap TUS airport parking rates which will offer anything between 30-75% savings on parking expenses.
The Greenbee Airport Parking Solution
Greenbeeparking.com is the connection between consumers and parking vacancies in close proximity to major airports and seaports. The parking spaces are very affordable because the company has negotiated discounted rates with major hotel chains for the parking spaces that are not currently occupied. Here's how it works.
Greenbee Parking puts the available inventory of parking spaces on their website to be reserved by business and leisure travelers looking for cheap airport parking. This alternative method for finding parking equates to significant savings for the traveler. You can learn more about their offers from (http://www.youtube.com/watch?v=WWLybHNYjYQ).
About Greenbee Parking
Greenbee Parking is the nation's most innovative long term parking company, with a new way of making long term parking affordable. The company is rapidly adding new airports to its network.