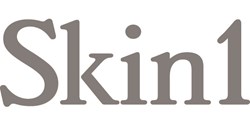 Over 5000 online vendors in North America were considered and only 66 businesses, including Skin1, had ratings high enough to reach Platinum status.
Chicago, IL (PRWEB) December 03, 2013
Online beauty retailer Skin1.com has been recognized for excellent customer service throughout 2013 with Bizrate's Circle of Excellence Platinum Award. Over 5000 online vendors in North America were considered for this award based on customers' ratings; of these vendors, only 66 businesses, representing 1.3% of the retailers, had ratings high enough to reach Platinum status.
The BizRate Circle of Excellence Award is an annual award given to online retailers within the Bizrate Insights Network who continually provide high quality customer service, as rated by their customers. Customer feedback was collected from August 2012 to July 2013 during point-of-sale and after product delivery. In order to receive the Platinum Award, the highest distinction available, retailers must score at least a 9.0 out of 10 in all seven key satisfaction categories including:
+ Overall Satisfaction
+ Product Selection
+ On-Time Delivery
+ Ease of Finding Product on Website
+ Repurchase Intent
+ Product Met Expectations
+ Customer Support
Skin1.com demonstrates commitment to superior customer satisfaction with free shipping, gifts with purchase, complimentary samples, hassle-free returns, guaranteed authentic products, and live customer service over the phone or through email. By winning the Platinum Award, Skin1 joins well-known online retailers like Zappos.com, Bose, Bath & Body Works, Crutchfield, and Yankee Candle Company. To see Skin1's BizRate ratings and reviews, visit http://www.bizrate.com/ratings_guide/merchant_info__mid--111065.html.
BizRate Insights is the largest source of verified, customer-generated seller ratings and reviews. By recognizing proven quality customer service, BizRate helps online vendors and consumers make informed decisions. For additional information about the BizRate Platinum Circle of Excellence Award, visit http://www.bizrate.com/boutique/2013circleofexcellence.html.
About Skin1.com
Based in Chicago, Skin1.com is an online retailer of skin care, hair care, and cosmetics products. Offering products from over 150 brands including Eminence, Yon-Ka, Guinot, Dermalogica, and Jane Iredale. Its innovative and ever-evolving website has been servicing customers since 1999. Skin1.com has made a mission of bringing the very best in beauty to its website for customers to establish and maintain results-oriented skin and hair care routines. Customers can find and order precisely what they need, easily and effectively, using their favorite internet-friendly device, wherever they're at.