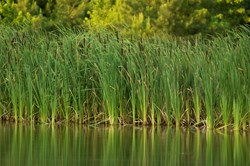 Fort Worth, TX (PRWEB) November 19, 2013
In 1993, regional engineer Rick Hice of Acme Brick Company began investigating natural solutions to a natural problem – acidic runoff from pine woodlands located above Acme's plant in Perla, Arkansas. The acid rainwater washed across the Perla property and continued downstream. The traditional approach to this problem involved the continued addition of neutralizing chemicals to the runoff water. Acme's staff opted for a more efficient, ecologically sound, and cost-effective solution that became the "Wetlands Project". A series of five filtrations ponds were built, and special aquatic plants were established that could neutralize the acidic water. Each pond was one acre in size.
Today, some 20 years later Acme's Wetlands continue to fulfill their original mission and much more. The area has evolved into a beautiful wildlife haven for a variety of creatures such as deer, small game and, of course, abundant waterfowl including some geese that came and never left. The Wetlands project has also become a teaching tool that is visited by secondary schools and universities.
"To see this area now so lush and full of life is an amazing bonus benefit to our original goal of solving the acid runoff problem. The Wetlands has become a real contributor to the ecological health of this area," said Dennis Knautz, President and CEO of Acme Brick Company. For more details on the sustainability of Acme Brick, visit http://www.brick.com/homebuyer/sustainability.htm.
For more information, please contact your local Acme Brick sales office or visit http://www.brick.com.
Find Acme Brick on Facebook at https://www.facebook.com/AcmeBrickCo.
Acme Brick Company, the largest U.S. brick company, is a member of the Berkshire Hathaway family of companies headed by famed investor Warren Buffett. The company celebrated its 122nd birthday on April 17, 2013.