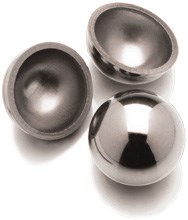 Farmingdale, NY (PRWEB) November 15, 2013
Airball Products (http://www.airball.com), welded its 5 millionth ball this month, thanks to proprietary automated tooling that allows production rates of up to 500 balls per hour without operator intervention. This proprietary tooling took three years to perfect, and allows for the highest quality product, at the lowest cost in the market. The tooling and process has been developed for exclusive use by EB Industries, LLC (http://www.ebindustries.com), leaders in electron beam welding and laser welding technology since 1965.
Airball Products' hollow metal balls are used for a broad range of applications, including aircraft cargo ball transfer units, conveyor systems, overflow and vent valves, and in orthopedic radiology. Made of 440A stainless steel and weighing a fraction of a solid ball, the Airball is an excellent replacement for hollow plastic balls that do not provide the 6,000 pound crush strength and corrosion resistant properties of a hollow metal ball.
Airballs' hollow metal balls are sold directly as well as by Xemarc,LLC (http://www.xemarc.com) and have been used by companies such as Stryker, Agfa, Goodrich Cargo Systems, and Danaher.