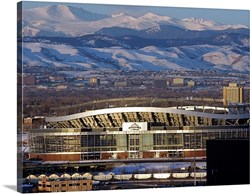 Denver, Colorado (PRWEB) November 14, 2013
Week 11 of the 16-game NFL regular season and drama continues to drive ticket sales, according to Felina Martinez at online ticket marketplace BuyAnySeat.com.
After Week 10, the 6-3 Carolina Panthers are snarling while the 6-3 Indianapolis Colts and 6-3 San Francisco 49ers appear to be sinking. The 9-1 Seahawks grounded the 2-7 Falcons, while the 7-2 Saints corralled the 5-5 Cowboys in New Orleans.
The 1-8 Jaguars got their first win. Even the 1-8 Tampa Bay Buccaneers surprised everyone by defeating the 4-5 Miami Dolphins. The biggest shocker of all was 4-6 Rams clipping the 6-3 Colts at home by 30 points. This week, however, all eyes will be on the highly-anticipated K.C. Denver game.
"Sports tickets are trending very high right now, including NHL Hockey, World Cup Soccer and NBA Basketball," said Felina Martinez at online ticket marketplace BuyAnySeat.com.
"That's why we're proud to offer fans the most comprehensive and continuously updated selection of sports tickets online, with a worry-free guarantee to protect their purchase.
"To access the total line-up of NFL Football tickets now available, customers can go to BuyAnySeat.com and click on NFL Football – then select their team and their tickets," said Martinez.
Currently, the nfl.com power rankings heading into Week 11, in order of rank, are the Broncos, Chiefs, Seahawks, Patriots, Saints, Panthers, Colts, 49ers, Bengals and Lions. But the big story this Sunday is at the foot of the Rockies.
The undefeated Kansas City Chiefs were off in Week 10. Last week, the 8-1 Broncos did their part by defusing the San Diego Chargers. But there's a small snag. After getting roughed up by the sea, Denver QB Peyton Manning is now dealing with ankle issues again. Plus, head coach John Fox is out recovering from recent heart surgery.
Then there's the fact that the Kansas City defense has allowed just nine touchdown passes in nine games while yielding a league-low 12.3 points per contest, the fewest points per game in the NFL. The Chiefs have also racked up a league-high 36 sacks, stifling opposing quarterbacks with the NFL's lowest figures in opponent passer rating (67.8) and completion percentage (53.5).
On the other side of the ball, The Broncos now have scored 371 points this year -- the most through the first nine games of a season in NFL history -- while easily pacing the league with an average of 458.7 yards per game.
Will Peyton Manning pass on the ferocious sack-happy K.C. D and emerge with his ankles and his reputation intact? Or, will the unsung Chiefs quiet the game's quintessential QB for a perfect 10-0 record going into Week 12? Either way, pigskin pundits predict the K.C. Denver game will be a perfect 10.
To shop for discount NFL Football tickets, visit BuyAnySeat.com.
About BuyAnySeat.com: An online ticket marketplace, BuyAnySeat.com connects sports, theater and other live entertainment fans to an extensive network of ticket sellers worldwide. The site's simplified listings and navigational tools enable shoppers to easily locate, compare and purchase inexpensive, discounted or lower-priced tickets to virtually all advertised sports and entertainment events around the globe.
The ticket marketplace, which is PCI-compliant and Norton Secured, also provides customers with a complete Worry-Free Guarantee on all ticket purchases. Based in Denver, Colorado, BuyAnySeat.com is a subsidiary of Denver Media Holdings. For more information, please visit http://buyanyseat.com.