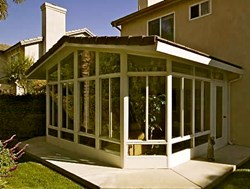 High-tech aluminum framing systems go up with a minimum of inconvenience to the homeowner's lifestyle.
MIAMI, FL (PRWEB) November 14, 2013
Aluminum sunroom additions have proved popular so far in 2013 with homeowners in Miami and Kendall who expanded their homes through Venetian Builders, Inc., company President Chris Noe said.
"We've done all kinds of home expansions in Miami-Kendall this year, but sunrooms are far and away the most popular there," Noe said.
"Aluminum sun rooms appeal on many fronts," Noe said. "They're versatile, especially with custom design, which lets us design the room for whatever use the homeowner has in mind. They look good, whether in basic form or when designed to complement the proportions and materials of the house they expand. And they meet code, even when equipped with giant skylights that are part of an integrated roofing system."
But Noe said the technology behind aluminum framing systems is key in their increasing appeal to homeowners. "High-tech aluminum framing systems go up with a minimum of inconvenience to the homeowner's lifestyle," Noe said. "Much of the precision work is done in our fabricating shops. What happens on site, within eyesight and earshot of the homeowner, is assembly and installation more than heavy construction."
Speed doesn't sacrifice quality with custom aluminum framing, Noe said.
"Because of the technology and code regulations, including the number of inspections, aluminum-framed sunrooms go up faster than structures built by traditional methods, and for a lower cost," Noe said. "The process is streamlined even more by our engineers and permitting experts, who make sure the Florida room will meet requirements."
Fully enclosed solariums are true 4 season rooms, Noe said, with climate control for both hot and cold weather.
Venetian Builders designs and installs not just sunrooms, but also patio roofs and covers, swimming pool screen enclosures, aluminum pergolas for shade, and aluminum lattice for privacy. It also installs retractable awnings for shade on demand. It serves West Palm Beach, Fort Lauderdale, Pinecrest, Cooper City, Boca Raton, Homestead, the Keys and all other South Florida communities.
Venetian gives free estimates, always written and detailed. Free in-home consultations include curbside access to the company's mobile showroom.
For more information, call 866-2427.