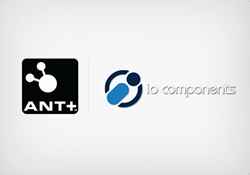 This partnership is a natural fit for ANT Wireless and we're excited about the increased distribution bandwidth it will provide to ANT customers in the U.K.
Cochrane, Alberta, Canada (PRWEB) November 14, 2013
ANT Wireless, proven innovator in ultra low power (ULP) wireless technology, today announces a partnership with IO Components, one of the U.K.'s leading distributors of high quality electronic components, for ANT Protocol based Application Specific Standard Products (ASSP) and finished good product distribution in the United Kingdom. ANT products include RF connectivity chip sets, modules and dongles made from silicon solutions such as Nordic Semiconductor's nRF51422 system-on-chip (SoC) that are built into or attached to sensor and display devices to enable ANT Wireless connectivity.
"This partnership is a natural fit for ANT Wireless and we're excited about the increased distribution bandwidth it will provide to ANT customers in the U.K.," said ANT Wireless Global Sales Manager, Mike Paradis. "As the primary U.K. distributor of Nordic Semiconductor silicon solutions, IO Components understands that the ANT Protocol and this relationship will arm their sales team with modular and development products to augment their component sales efforts and enhance the service they provide to ANT customers."
"We offer our customers complete solutions and services in the ULP Wireless arena and a strategic part of our RF device portfolio is the ANT protocol and product line, which has become the de-facto standard in the sports and wellness markets," said IO Components Sales and Marketing Manager, Paul Bundy. "Being closely aligned with Nordic Semiconductor, another of our major franchises, enables us to offer a full range of solutions in the 2.4GHz ISM band."
"By offering a complete service to customers, from inception through design, manufacture, test, packaging and distribution, we can broaden the customer base to include even those who have little or no previous electronics or RF expertise. There are many sound ideas and concepts that have developed with the growth of the ULP Wireless industry, people are finding more and more applications. We need to help get these to market as quickly as possible and continue the momentum," added Bundy.
ANT Wireless offers a variety of protocol and silicon parts including chip set, module and bridge solutions. For a complete listing of ANT components visit http://www.thisisant.com/developer/components/.
###
About IO Components (http://www.io-components.com)
IO Components was established in August 1998, initially working as a non-franchised broker for electronic components. It is now a UK representative and distributor for a number of franchised lines, dedicated to the supply of high quality product and service to the electronics industry.
IO Components represents a number of manufacturers located throughout Europe, the America's and the Far East, and work hard to provide a fast, friendly and efficient service to meet the component sourcing needs of our customers. In addition, it offers a service to source discontinued and "hard to find parts" and can provide kitting services.
IO Components is a sister company to IO Electronics Ltd, an established and successful electronic manufacturing and assembly organisation based in Poole, Dorset. Using the facilities of both companies and the support of experienced electronics designers, IO Components is able to offer a complete service, from straightforward distribution and scheduled supply, through design and applications support, PCB manufacture and assembly, to complete Turnkey solutions including cable assembly, box build, packaging and distribution.
About ANT / ANT+ (http://www.thisisant.com)
ANT is a proven protocol and silicon solution for ultra low power (ULP) practical wireless networking applications. ANT+ is the pervasive ULP wireless technology facilitating the capture of critical market share in the exploding mobile sensor sector. With over 60 million devices in the market, ANT+ facilitates interoperability between ANT+ devices and the collection, automatic transfer and tracking of sensor data. This standardized communication platform enables quick-to-market solutions for application developers, sensor manufacturers and cell phone makers. ANT+ has amassed an ecosystem of world-class technology vendors in the ANT+ Alliance, an open special interest group of companies who have adopted the ANT+ promise of interoperability. These industry leaders offer readily-available brand name products for sport, wellness management and home health monitoring.
The company behind ANT Wireless is Dynastream Innovations Inc. (http://www.dynastream.com). Dynastream was established in 1998 and became a wholly owned subsidiary of Garmin Ltd. in December 2006. Dynastream is based in Cochrane, Alberta, Canada, and is a world innovator in the research and development of inertial and wireless technology.
Source ANT+ Certified Products (http://www.thisisant.com/directory)
The ANT+ Product Directory is a complete inventory of all ANT+ certified or verified products. It is a tool designed specifically to help consumers source hundreds of industry-leading devices and all compatible products within the vast ANT+ ecosystem. Devices may be searched by product name, brand, activity or product category, (http://www.thisisant.com/directory/d/getting-started), allowing the consumer to create a monitoring system that meets their specific needs.