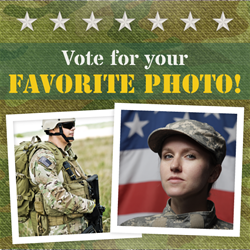 We wanted to do something to honor these brave men and women...
Anchorage, AK (PRWEB) November 15, 2013
In honor of the active duty service members and veterans who most inspire them, the students, alumni and staff of Charter College have submitted some truly inspirational photos and messages about the very special men and women in their lives. Members of the Air Force, Army, National Guard, Navy and Marines were all well-represented in the Veteran's Day Photo Contest and now it's time for the public to cast its votes. Photos and captions were submitted through Facebook, Instagram and Twitter and are available for viewing and voting at the Charter College Page on Facebook.
Charter College Director of Marketing & Community Outreach, Brandi Anderson, said the contest was a great success and pointed to the fine tributes the Charter College family offered to the service people in their lives.
"We wanted to do something to honor these brave men and women for the sacrifice they make every day as past and present members of the military service," said Brandi. "At Charter College, we're proud of those who serve and this photo contest was a small way to show them how truly appreciated they are."
To view submissions and vote:

The Charter College family has truly honored the active duty military members and veterans in their lives with their offered tributes and photos.
Now it's time to choose a winner and they need your help!
The photo submission which receives the most votes will win an iPad. Additionally, the top vote-getter from each campus and the runner up at the grand prize winner's campus will win a $100 VISA gift card.
Voting closes at 11:59 PM PST on November 21st and the winners will be announced via Facebook, Instagram and Twitter on November 25th.
Charter College offers career-focused education in the fields of health care, business, law, criminal justice, information technology, and some trade careers. The school has campuses throughout California, Alaska, and Washington State. If you would like to learn more about the programs offered at Charter College, please call 800-200-9942.