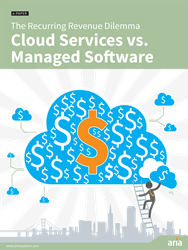 Companies that benefit from recurring revenue understand they need to be focused on enhancing the customer relationship, not just one-off transactions
San Francisco, CA (PRWEB) November 14, 2013
Aria Systems, powering recurring revenue for the enterprise, responds to a timely debate in its latest e-paper released today: "Recurring Revenue Solutions – The Case for Cloud vs. On-Premise, Managed Software." Many business executives are asking themselves if it's better to buy managed, on-premise software or subscribe to an on-demand, cloud-service solution as their companies make the shift from one-off transactions to the various approaches provided by the recurring revenue model.
Since managers are reaching outside their organizations to find the experience that expert service vendors provide, Aria Systems has released this e-paper to demonstrate the key advantages that a cloud vendor can offer to the managers and their businesses so that they can get to market quickly and grow their recurring revenue successfully. The e-paper also examines the reasons why e-commerce, payment and legacy revenue management systems can't help businesses meet their recurring revenue goals today, much less in the future.
"Companies that benefit from recurring revenue understand they need to be focused on enhancing the customer relationship, not just one-off transactions," said Jon Gettinger, senior vice president of marketing at Aria Systems. "In-house legacy systems simply don't fit that bill."
About Aria Systems
Aria Systems helps leading businesses connect their customers with the products and services they love. Industry leaders like Pitney Bowes, Experian, AAA NCNU, VMWare, HootSuite and many others choose Aria to power their recurring revenue business and deliver exceptional experiences to their customers. Learn more about us at http://www.ariasystems.com or call 1.877.755.2370.