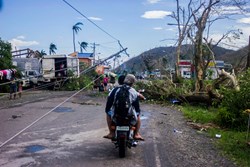 We have a unique opportunity to guarantee these funds will be used to help people who have been affected by the typhoon.
Fort Collins, Colorado (PRWEB) November 14, 2013
GoAbroad.com, in conjunction with the GoAbroad Foundation, a 501(c)(3) non-profit, is launching an official Causes campaign to provide direct relief to Typhoon Haiyan (Yolanda) survivors in Tacloban City.
GoAbroad.com hopes to promote the campaign nationally and globally to raise funds that will directly support the people and families that have been affected by the devastating storm.
"We have a unique opportunity to guarantee these funds will be used to help people who have been affected by the typhoon," said Kayla Patterson, the GoAbroad.com employee leading the campaign.
The Founder and CEO of GoAbroad.com, Troy Peden, and his family live and work in Tacloban City and have been using their house and the company's office as a refuge for staff, families, and media reporters. The Peden family has been distributing relief supplies, and has already been able to receive donations from an earlier campaign to continue providing relief in the community.
"I am overwhelmed by the generosity and dedication from our U.S. counterparts. Every little bit helps as we try to navigate rebuilding the Tacloban community," Peden stated.
The Causes campaign focuses on GoAbroad.com's personal connections in Tacloban and the people that live there. Secure donations can be made to the GoAbroad Foundation, a tax-deductible NGO that has been supporting projects in and around Tacloban for over a decade. The foundation works closely with Volunteer for the Visayans, a volunteer organization that is located in the housing project of Bliss in Tacloban City.
For those who would like to contribute to the campaign, or share it with personal and professional networks, follow this the link:
About GoAbroad.com
GoAbroad.com has been the web's premier resource for meaningful international experiences and alternative travel opportunities for fifteen years, providing the most up-to-date and accurate information on programs available worldwide. From GoAbroad's GoMedia services, which offer a distinct range of internet marketing solutions for international educators, to the prestigious GoAbroad Innovation Awards, and the newest initiative - FundMyTravel - an online crowd funding site to help students raise money for meaningful travel experiences (http://www.fundmytravel.com), the GoAbroad team is dedicated to providing the most comprehensive resources to the field of international education.