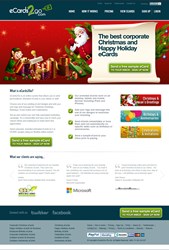 Holiday eCards are a way to nurture your customers and remind them of your appreciation for their business.
(PRWEB) November 14, 2013
Corporate holiday ecards are proving to be incredibly popular again this year as an affordable marketing tool available to businesses of all sizes - from large corporations down to very small businesses.
As one of the leading corporate ecard providers, http://www.eCards2go.com are dedicated to providing unique affordable ecard designs along with a robust system for businesses to adopt their own 'soft sell' marketing strategy. Corporate ecards provide an opportunity for businesses to engage with customers and establish a personal connection without being pressured to buy anything.
Managing Director Michael Hiscoe commented: "Corporate ecards are a way to nurture your customers and remind them of your appreciation for their business. There's no hard sell pressuring them to buy your product or service. A personalized ecard offering holiday greetings will generate goodwill for your business and shows that you value their business relationship."
The single biggest challenge in any email marketing campaign is getting your customer's attention. The addition of a personalized animated eCard takes any email marketing campaign to an exciting new level. Corporate holiday ecards communicate a powerful message and are the new way to interact and engage with clientele.
Michael Hiscoe went on the say: "A corporate ecard campaign to send Christmas or holiday greetings is the perfect opportunity to remind people about your business. We've received some amazing feedback from companies who are using eCards2go.com as part of their ongoing marketing strategy. Ecard campaigns provide increased brand recall for when customers need your product or service in the future."
To support an ongoing marketing campaign, http://www.ecards2go.com also provides creative ecards for other occasions throughout the year. Categories include birthday ecards for customers or staff, business celebration & event invitation ecards, club membership renewal ecards and company anniversary ecards.
http://www.ecards2go.com maintain a high level of quality in both their ecard designs and online system to appeal to their broad range of corporate clients. All ecards have been designed by professional illustrators and animators with great attention to detail. Their animated ecards also utilize the latest in HTML5 technology and are viewable on all devices including mobile phones and tablets including iPhones and iPads.
The eCards2go.com online system is easy to use and you won't be able to resist sending yourself a fully customized test ecard in a few quick clicks. Don't forget to check out http://www.eCards2go.com which showcases their entire collection of corporate ecards.