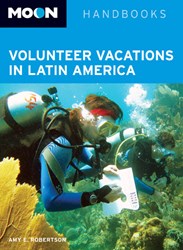 Volunteer vacations allow visitors to experience a destination and connect with locals in new and meaningful ways.
Berkeley, CA (PRWEB) November 20, 2013
Looking for a unique way of giving back this holiday season? This fall, travel expert and author Amy E. Robertson is encouraging travelers to give thanks by planning a volunteer vacation. For the months of November and December only, travelers can get inspired and informed with a free eBook version of Robertson's new guidebook, Moon Volunteer Vacations in Latin America, available at Moon.com.
Why spend your vacation working? Because travel becomes transformative when people share experiences and integrate with the culture and environment of a place. Now, just in time for Thanksgiving, Robertson shares three important reasons to consider a volunteer trip to Latin America.
1. Volunteering helps tourists become travelers.
Volunteer vacations allow visitors to experience a destination and connect with locals in new and meaningful ways. Volunteering is about sharing talents and abilities, mutual learning, and pulling back the curtain that separates the foreigner from the country.
2.Volunteer vacations are fun as well as fulfilling.
Captivated by the extraordinary wildlife of Costa Rica and Ecuador? Longing for the laid-back vibe of Nicaragua and Mexico? From the European-Latin fusion of Argentina to the beaches and colonial cities of less-traveled Colombia, Latin America offers something to entice any traveler.
3.Volunteering is first and foremost about those in need.
Poverty figures in Latin America dwarf those of the United States and Canada. Most Latin American countries don't have social safety nets like welfare or Medicaid. Children may go to school 100 days a year—or not at all. Wildlife conservation and environmental protection is often left behind in the basic struggle for survival.
Each travel experience has the potential to open windows into unfamiliar and exciting worlds. Whatever travelers choose to do and wherever they choose to go, volunteering can add a new dimension to their trips and create meaningful memories that last a lifetime.
For more information on volunteer vacation opportunities, visit Moon.com and read Amy E. Robertson's pieces Questions to Ask About Volunteering in Another Country and Coming Full-Circle: How Volunteer Vacations Impacted My Life.
# # #
About Moon Travel Guides & Moon.com
Moon Travel Guides make independent travel and outdoor exploration fun and accessible. With expert writers delivering a mix of honest insight, first-rate strategic advice, and an essential dose of humor, Moon guidebooks ensure that travelers have an uncommon and entirely satisfying travel experience. Moon not only guides, Moon inspires. Based in Berkeley, California, Moon is published by Avalon Travel, a member of the Perseus Books Group. Visit Moon online at Moon.com.