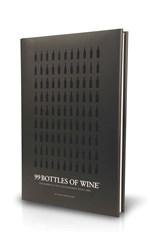 A consumer's perception of wine--its color, its bouquet and its taste-- is profoundly influenced by the package design, bottle shape and even texture on the label.
Napa, California (PRWEB) November 14, 2013
We drink with our eyes. Just like a chef's presentation influences a dining experience, our perception of wine starts with its label.
"A consumer's perception of a wine—its color, its bouquet and its taste—is profoundly influenced by the package design, bottle shape and even the texture of the label," says Schuemann, one of the world's leading wine packaging experts and author of the new book "99 Bottles of Wine: The Making of the Contemporary Wine Label."
While telling the rich stories of the people, places, history of the 99 distinctive labels features, Schuemann also details the behind-the scenes process and business challenges involved in designing a wine label that catches consumer attention and reflects its position and status.
"99 Bottles of Wine" takes readers from the vineyards to the crowded retail store shelves, revealing tricks of the trade that influence consumer purchase. Schuemann explains how cues like metallic foil, label textures and colors are intentionally designed to appeal to a wine's target audience and communicate quality, price and even flavor. With stunning photography and vivid narratives, this gift-worthy coffee table book offers wine lovers, serious wine collectors, and design aficionados a rare behind-the-scenes look at how creative packaging and innovative design drive some of today's most successful wine brands.
"99 Bottles of Wine" features well-known wineries including Beringer, Duckhorn, Joseph Phelps, Sea Smoke and Santa Margherita along with up and coming brands such as the Food Network's Entwine brand, Slingshot, Educated Guess, and Monogamy.
The book also includes an insightful foreword titled "The Spirit of Wine" by legendary Vintner Agustin Huneeus, proprietor of Napa Valley's Quintessa Estate. The book's dust jacket unfolds to become a stunning poster showcasing all 99 wines featured in the book.
Signed copies of "99 Bottles of Wine," are available for $49.95 at http://www.99bottlesofwine.com. The book is distributed nationally at your local bookseller and available online at amazon.com.
About David Schuemann
David Schuemann, author of "99 Bottles of Wine," is one of the world's leading experts in wine and spirits label and package design. He is a frequent guest speaker at industry events and conferences and owner and creative director at CF Napa Brand Design in Napa, Calif. Over the past decade, he has led CF Napa Brand Design to become one of the world's preeminent brand agencies specializing in wine, spirits and beer. The firm's work has earned international recognition from almost every major design competition in the world and has been showcased in some of the most prestigious museums, including the Museum of Modern Art. CF Napa's work is part of the permanent collection at the Cooper Hewitt Design Museum at the Smithsonian in New York City, and the permanent collection of the American Design Archives at the Denver Art Museum.