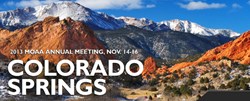 Colorado Springs, Co. (PRWEB) November 14, 2013
WHAT: A free career fair for all officers, enlisted, active duty, retired, former and National Guard/Reserve servicemembers and their spouses and government employees.
WHO: Hosted by the Military Officers Association of America (MOAA) in conjunction with the 2013 MOAA Annual Meeting Nov. 14-16.
WHEN: Thursday, Nov. 14, from 10 a.m. to 2 p.m. (pre-career fair seminars begin at 8 a.m.)
WHERE: The Antlers Hilton (Heritage Ballroom,) 4 S. Cascade Ave. in Colorado Springs, Colo. (719) 955-5600. Free parking available.
Background: Employers from 50 regional and national companies will look for potential employees with a variety of job skills. Businesses and organizations attending include Northrop Grumman, USAA, Boecore, First Command Financial Services and more.
Several free, 60-minute pre- career fair transition seminars are open to the public. "Leaving the Military — Financial Preparation," presented by USAA, will be held from 8 a.m. to 9 a.m.; "Federal Job Application Workshop: Find and Apply" will be held from 8:30 a.m. to 9:30 a.m.; "How to Work a Career Fair" will be held from 9 a.m. to 9:30 a.m.; and "Getting the Most from your MOAA/Voices Membership" will be held from 9:30 a.m. to 10 a.m. An afternoon seminar, "LinkedIn Best Practices" will be held from 2 p.m. to 3 p.m.
From 12 p.m. to 3 p.m., there will be a "Military Spouse Employer Forum." MOAA has partnered with the Colorado Springs Military Spouse Career Committee to bring spouses and employers together for an afternoon of professional and personal development. Attendees can hear from spouse-friendly employers, learn valuable networking tips, and build a personal "elevator pitch." (Registration is required, and seating is limited.) To register, email name and contact information to msc(at)moaa(dot)org by Nov. 11. View the flyer for more information.
Hero2Hired (H2H) mobile job store will also be featured. H2H is a DoD initiative to assist unemployed reserve component servicemembers with job placement.
No preregistration is required to attend the career fair. For further information, call (800) 234-MOAA (6622) toll-free (Monday through Friday, from 8 a.m. to 6 p.m., Eastern time), email careerfair(at)moaa(dot)org or visit http://www.moaa.org/careerfair on MOAA's website.
MOAA is known as a leader in the military-to-civilian career transition field and has been helping military personnel obtain second careers for more than 60 years.
Media Note: All media, who are interested in attending the event, please come to the media table outside of the Heritage Ballroom at the Antlers Hilton. MOAA PR contacts can assist you with meeting subject matter experts and other interview candidates at the event.
This Career Fair is being held in conjunction with 2013 MOAA Annual Meeting Nov. 14-16. Other events include MOAA Community Heroes Awards Night, to honor Colorado Spring's military and civilian community champions, a congressional breakfast with members of the Colorado delegation, and a chairman's luncheon with guest speaker, Lt. Gen. Michelle Johnson, USAF, Superintendent, U.S. Air Force Academy.
# # #
About MOAA:
Military Officers Association of America (MOAA) is the nation's largest officers association with more than 380,000 members from every branch of service, including active duty, retired, National Guard, Reserve, and former officers and their families and survivors. MOAA is a nonprofit and politically nonpartisan organization and an influential force in promoting a strong national defense. MOAA represents the interests of service members and their families in every stage of their lives and careers, and for those who are not eligible to join MOAA, Voices for America's Troops is a nonprofit MOAA affiliate that supports a strong national defense. For more information, visit http://www.moaa.org or http://www.voicesfortroops.org/.
Members of the news media who wish to be added to our media distribution list for MOAA news releases, please contact requestnews(at)moaa(dot)org. Visit MOAA's Multimedia & Press Room at http://www.moaa.org/media/default.htm.