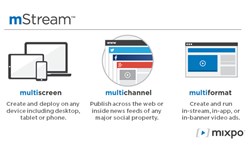 Seattle, WA (PRWEB) November 20, 2013
Today multiscreen video ad provider Mixpo introduces mStream video ads, providing the latest in video ad capabilities. While the brand is new, mStream comprises the video ad products Mixpo's agency and media company customers have already been using. The difference is that they can now design video executions from Mixpo to be responsive, meaning that the ads detect which device they're being viewed on and, in real time, deliver creative executions optimized for the associated screen size. They also automatically render in Flash or HTML5 depending on which approach the device demands.
Here's a summary of what mStream video ads mean:

mStream video ads are multiscreen, multichannel, and multiformat.
Multiscreen because they run on any device – desktop, tablet, or phone.
Multichannel because they can be published not only across the web, programmatically or otherwise, but also inside the news feeds of any of the major social properties, including Facebook, Twitter, LinkedIn, Google+, Pinterest, and Tumblr.
Multiformat because they can be in-stream, in-app, or in-banner.
"Savvy marketers demand scalability and simplicity. mStream provides both. It represents the next generation of multiscreen video advertising," stated Salim Hemdani, Mixpo's Vice President of Software. "Demand for mStream will continue to rise. We are pleased to provide this additional value to our customers and partners."
According to eMarketer, online video is the fastest growing segment of digital ad spending in the U.S. They expect digital video spend to more than double, from approximately $4 billion to $8 billion between 2013 and 2016 while online ad spend more broadly speaking grows roughly 36%. Meanwhile, according to the IAB, brand budgets for mobile advertising, including mobile video, have shot up 142% in just the last two years. eMarketer predicts that by 2017, mobile spend, at $31 billion, will represent not only half of all online spend in the US, but 15 percent of all ad spend period ($197 billion) – linear TV included.
Agencies and media companies can create an mStream ad in minutes and can add interactive "mini-apps" such as Instagram feeds or PowerShare, a robust social sharing overlay, without having to know how to code in Flash or HTML5.
mStream video ads can be updated in real-time. They can also be set to change automatically depending on time of day, location, or audience demographic.
mStream enables media buyers to make smart purchasing decisions because mStream yields insights on inventory quality based on assessment of viewability, fraud detection, and audience confirmation (using Nielsen OCR).
About Mixpo
Mixpo enables agencies and media companies to easily create video ads that run anywhere. The company's mStreamtm video ads work on any screen – desktop, tablet, or phone. They can be published on premium websites, ad exchanges, and in the newsfeeds of all the major social sites including Facebook, Twitter, LinkedIn, Google+, and Tumblr. mStream video ads operate in any format (in-stream, in-banner, in-app, in-social). Set-up and execution is fast and easy whether we teach you to do-it-yourself using our online platform or you utilize Mixpo as a managed service. Mixpo's platform uses proprietary algorithms to assess inventory quality so that media buyers can make better purchase decisions.
Mixpo works with 70 of the top 100 advertisers in the US. In 2013, Forbes named Mixpo one of America's Most Promising Companies and Deloitte name Mixpo to their Technology Fast 500 List. The IAB selected Mixpo as a winner of its 2013 Digital Video Rising Stars competition. Mixpo is headquartered in Seattle, with offices in New York, Boston, and Victoria BC.