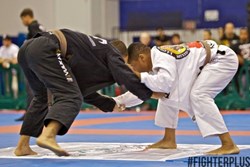 "Tim has set the bar high for the rest of us on the competition team! "- Devon Delbrugge, Crazy 88 Instructor
(PRWEB) November 13, 2013
Baltimore Brazilian Jiu-Jitsu fighter and Crazy 88 Instructor, Timothy Spriggs, competed at the World Brazilian Jiu-Jitsu Expo this past weekend in Long Beach, CA. The event was "invitation only" and consisted of the most talented competitors in the sport today. Spriggs went undefeated in nine matches, and was awarded a gold trophy.
Crazy 88 Brazilian Jiu-Jitsu is the Baltimore area's leading producer in Brazilian Jiu-Jitsu, Mixed Martial Arts, and Muay Thai competitors. Timothy Spriggs is a prime example. This past weekend he competed in the World Brazilian Jiu-Jitsu Expo, an invitational event consisting of 16 of the worlds best brown belts in BJJ. Spriggs went undefeated in nine matches, and earned one of the highest accolades in the sport.
The World BJJ Expo, held in Long Beach, CA, is a convention-style event hosting some of the sports biggest names, highest quality brands of equipment, and one of the highest level tournaments in the world. The Brown Belt Grand Prix involved 16 of the worlds best brown belts, many of whom hold international medals in BJJ. One of the competitors was a member of the 2012 US Olympic Team for Judo.
Spriggs won 9 matches and was only scored on once the entire time. The score of all his matches combined concluded at 54 (Spriggs) to 2 (other competitors). This is a very impressive accomplishment considering the depth of talent in this competition.
Spriggs began training Brazilian Jiu-Jitsu while still in high school. He started to get a taste of BJJ competition before going off to college at St. John's University. While in college, he was only able to train occasionally during the semester, but trained hard during Winter and Summer breaks. During his senior year in 2012, Spriggs became the purple belt heavy weight Pan American champion, and also took bronze in his weight class and the absolute division at the 2012 World Championship. In 2013, Spriggs took two gold medals at the European Open, gold at the Pan American championship, and gold at the Abu Dhabi Pro. Mid-season he was injured and was unable to compete in the 2013 World Championship. In June, he was promoted to brown belt and has been training and competing steadily ever since.
Spriggs has worked hard to see this success in BJJ. He trains multiple times per day in an academy that has always brought in the top talent to help raise these competitors abilities. Upon his return from the World BJJ Expo, he resumed training with Judo Olympian Nick Delpopolo to improve on his game further. Teammate and Crazy 88 BJJ instructor, Devon Delbrugge said, "Tim has set the bar high for the rest of us on the competition team! It is exciting to see our teammates go out and have such dominating performances."
For the best Martial Arts training in Howard County MD, please contact:
Crazy 88 BJJ - Elkridge
7024 Troy Hill Dr, Suite L
Elkridge, MD 21075
443-283-1450
or visit http://www.BaltimoreMixedMartialArts.com
For information on training in Baltimore County, please contact:
Crazy 88 - Owings Mills
5 Easter Ct, Suite E
Owings Mills, MD 21117
410-999-1064
or visit http://www.Baltimore-MMA.com