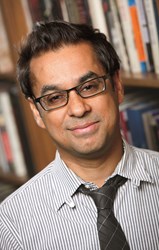 "It's humbling and terrifying," Basu says about the award. "I know the past recipients at Willamette, and they are all gifted teachers. To be counted among them is a great honor."
Salem, Ore. (PRWEB) November 14, 2013
Sammy Basu, professor of politics at Willamette University, was named 2013 Oregon Professor of the Year by the Carnegie Foundation for the Advancement of Teaching and the Council for Advancement and Support of Education.
The Professor of the Year program recognizes outstanding undergraduate instructors who excel in teaching and who positively influence the lives and careers of students.
"It's humbling and terrifying," Basu says about the award. "I know the past recipients at Willamette, and they are all gifted teachers. To be counted among them is a great honor."
Basu has impressed his students and colleagues by inventing a steady stream of new and innovative curricula. He's lauded for his commitment to students' development. Many students say that Basu's classes were among their hardest and most rewarding college experiences.
In 1999, Basu was selected as the students' choice for Mortar Board Professor of the Year. He received a Faculty Achievement Award for Teaching and Service three times — in 1995, 2002 and 2011 — and the Jerry E. Hudson Award for Excellence in Teaching in 2007.
Basu is the 11th faculty member from Willamette named Oregon Professor of the Year since CASE and the Carnegie Foundation selected the first Oregon professor in 1989. With nearly half of Oregon's award-winners, Willamette's faculty has earned the most state Professor of the Year honors of any West Coast university.
About Willamette
Across the street from the Oregon State Capitol, Willamette University is a community of creative, collaborative scholars guided by the motto, "Not Unto Ourselves Alone Are We Born." This principle drives the university's commitment to academic excellence, inquiry and the transformation of knowledge into action. Willamette is proudly one of 40 "Colleges That Change Lives."
###WILLAMETTE###
Willamette University's Oregon Professors of the Year:
willamette.edu/go/professors
willamette.edu/about/recognition/professor_of_the_year/basu/
Professor of the Year Program:
usprofessorsoftheyear.org/About_POY.html#.UoP2yJRgaBM
usprofessorsoftheyear.org/Winners/Search_Winners.html?state=OR#.UoP22ZRgaBM