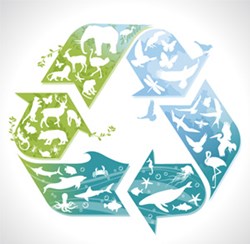 Recycling rates have stagnated in large part due to a dramatic increase in consumption of these beverages, especially at businesses and in public spaces where recycling bins are scarce
(PRWEB) November 14, 2013
America Recycles Day (ARD), November 15th is the only national recognized day dedicated to encouraging Americans to promote recycling in the United States. ARD is a community-driven national celebration event founded in 1997 and has inspired millions of Americans to become better informed about the importance of recycling to move towards a more eco-friendly planet.
Recycling is the easiest thing we can all do 365 days a year to save energy and conserve natural resources, yet the Environmental Protection Agency (EPA) reported that Americans only recycled about 34% in 2012 and only 8% of the total plastic generated that year was recycled. The rest of the plastic bottles were sitting in landfills that take more than 450 years to completely break down. The U.S. is the largest consumer of plastic bottled water in the world using an average of 240 bottles per person a year. Plastics are swept away by ocean currents and pose a significant threat to the health of sea creatures which may ingest or become entangled in plastic. "Recycling rates have stagnated in large part due to a dramatic increase in consumption of these beverages, especially at businesses and in public spaces where recycling bins are scarce," said Susan V. Collins, president of the Container Recycling Institute. Should consumers know that 90% of the cost of bottled water goes to packaging, distributing and transportation and only 10% goes to the actual cost of bottled water, they may be more conscious of their consumption habits.
The best way to reduce plastic waste is to eliminate it from being generated in the first place. APEC Water systems promotes an eco-friendly and healthy alternative to staying hydrated with a water filtration system that provides bottle water quality drinking water without the plastic bottle waste. APEC Water Filtration Systems use Reverse Osmosis filtration process, a technology widely used by many bottle water manufacturers, to provide great tasting water right at home. Reverse osmosis is the best technology available for water filtration because it can remove 99% of all contaminants found in water, making them far more effective than faucet filters, water pitcher filters, refrigerator filters and even some bottled water.
APEC's reverse osmosis systems are conveniently placed underneath the sink to provide unlimited fresh drinking water right at home without all of the plastic bottle waste. They can eliminate people's dependence on bottled water to reduce plastic pollution waste and save money on buying costly bottled water. It can be easy and convenient to pick up bottle beverage products but the end cost on the environment and the magnitude of plastic pollution sets it all in perspective. APEC Water Systems introduces an eco-friendly alternative against purchasing bottled water to allow consumers to avoid contributing to the environments plastic waste. Those continuing to use plastic water bottles can learn more about recycling in the community on America's Recycle Day website and "Take The Pledge" to recycle more.
About APEC Water
For over 17 years, APEC has been an industry leading manufacturer of high performance residential and commercial water purification systems. Based out of Southern California, APEC specializes in building the highest quality reverse osmosis drinking water systems and backwashing whole house water filters right here in the USA. The company offers system customizations and their products are available exclusively through their website at Freedrinkingwater.com which also provides an extensive water filtration guide and library to the public. To learn more about APEC Water and the Total Solution system, please visit http://www.freedrinkingwater.com or call customer service at 1-800-880-4808 for more information.