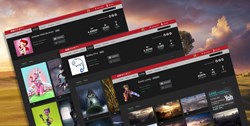 CGPortfolio is once again the place to be seen!
Adelaide, South Australia (PRWEB) November 15, 2013
CGSociety has launched their completely redesigned and rejuvenated CGPortfolio - giving Digital Artists the opportunity to share their work to the World, in a completely new and responsive online portfolio.
CGPortfolio was revolutionary when it first hit the internet years ago. It became a beacon for professional and aspiring Digital Artists; who uploaded thousands of images, proudly discussed their work with legions of friends and fans, and got their dream jobs. It was the place to be seen. However, it is fair to say that over time it had become dated.
After much thought and many development hours, the redesigned CGPortfolio now offers greatly improved tools for artists, easy browsing, easier upload (drag and drop), simplified portfolio management options, fully responsive format, and more. The new system also uses Verold's 3D tools, adding a whole new dimension to browsing and collaborating with 3D models and scenes.
The next stage is coming soon and will see a new front page and a gallery page that will show art in specific collections that can be manually or automatically updated. There will be seamless integration of CGSociety's Forums (the largest CG forum on the web). The new gallery pages will run in tandem with the existing galleries on the forums with comments and critique being dynamically mirrored across the respective pages. There will also be a fully functioning "Follow Me" feature, which will build artists' fanbases.
The new CGPortfolio site was made possible by CGSociety's partnership with Verold, a pioneer in browser based 3D technology. Verold challenged their team to use their extensive experience in website architecture and community management to build a platform that will host over 250,000 portfolios from all over the world. Together, CGSociety and Verold's main mission is to provide a superior resource that will serve the changing needs of the CGCommunity.
Have an existing CGPortfolio? Artists need do nothing, as all existing CGPortfolios will automatically change to the new system. Best of all, it is still completely FREE! This is the best time to update portfolios, because there will be a lot of traffic coming.
CGSociety's CGPortfolio is not only the home to artists from Blizzard, Weta, Dreamworks, and Disney, but also for aspiring artists who share their work and developing skills with a global community of digital artists. You don't even need to be an artist to join and enjoy the incredible work on CGPortfolio, lovers of great art are welcome to join and be a part of the largest CG community on the internet.
This is much more than just a fresh coat of paint, or just a cosmetic nip and tuck. CGSociety have gone right back to basics and rebuilt their portfolio system from the foundation up. The giant has awakened, and it is one good looking beast. CGPortfolio is once again the place to be seen!