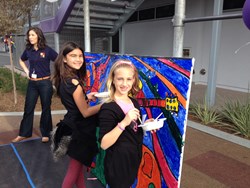 "Las Fiestas 2013 is a chance for us to both celebrate the success of our educational mission and reflect on the road we have ahead of us" -Martine Singer, President & CEO
Los Angeles, California (PRWEB) November 18, 2013
Para Los Niños, a nationally accredited, Los Angeles-based education and social services agency, held Las Fiestas, an annual community service day, on Sunday, November 17, 2013 at their new Middle School on Stanford Ave in the heart of LA's Skid Row.
Over 300 children and their parents gathered at the newly renovated 9th Street Middle School to engage in over 15 interactive activities, each hosted by a local business or community group. The activities included mural painting, the Time Warner Cable STEM for Sports broadcast booth and a laughter-filled talent show. The event also featured the LA Kings Ice Crew which were on hand for a "shots on goal" hockey shootout along with storytellers and local magician Jeff Black (The Magic Castle). Sponsors included Time Warner Cable, AEG, Gibson Dunn & Crutcher, Food4Less and O'Melveny & Myers.
"Las Fiestas 2013 is a chance for us to both celebrate the success of our educational mission and reflect on the road we have ahead of us," said Martine Singer, Para Los Niños CEO. "Each child deserves the opportunity to learn and thrive in a safe environment. Our allies at the state, local and federal government levels and supporters in the private sector understand this and, through their hard work and generosity, have allowed us to expand our services every year."
About Para Los Niños:
Since 1980, Para Los Niños has helped children and families succeed in school and life. Each year PLN serves 7,500 children and families at 13 sites in the most impoverished neighborhoods in Los Angeles. Para Los Niños schools immerse children in rigorous learning and enriching environments, and offer families skills that support academic achievement and financial stability. The organization utilizes novel and innovative teaching methodologies to promote student achievement, along with coordinated case management to bring mental health and support services to all members of the community. By combining school-day education with valuable life services, Para Los Niños gives children the opportunities to combat the achievement gap, escape poverty, and achieve success in school and in life. For more information, visit http://www.paralosninos.org