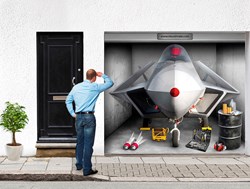 Passersby will stop and stare.
Auckland, New Zealand (PRWEB) November 14, 2013
At last, the days of homes stuck with drab and ugly looking garage doors, are over. For even the most tastefully appointed homes, this huge door is a noticeably grim facade. Now, a new range of novel hyper-realistic illusionary murals at http://www.muralmate.com aims to change this.
Created by MuralMate, in collaboration with digital artists, are 30 scenes available to the public. Included is a make-believe of a parked jet to impress the neighbors, a barn entrance with farm animals, and even an oriental Garden of Harmony.
"Our magical murals, transform boring garage, and inside doors, into incredible scenes. They bring fun, awe and individual expression into homes, and from the curbside. Passersby will stop and stare," says Clive Donde, founder of MuralMate.
Over the last 100 years, murals have brought art into the public sphere. Becoming mainstream in the 1990s, street art can have a dramatic impact on people. With a new suburban take on it, garage door murals offer a theatrical, uplifting and practical form of expression.
These murals by MuralMate are produced as a billboard-like cover. With special double-sided tape included, it is easy for anyone to put up and remove. Weatherproof for long-term outdoor use, they are suitable for all flip up and sectional (panel) garage doors.
They cover most garage and inside door sizes. Prices range from $499 for garage backdrops to $149 for inside door illusions. The http://www.muralmate.com studio offers free global shipping to most destinations.
About MuralMate
Launched in November 2013, the MuralMate studio is in New Zealand. The murals are printed in five countries around the world. To view the mural collection and to order, visit http://www.muralmate.com