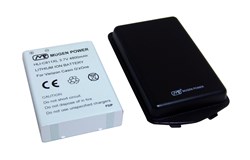 Denver, CO (PRWEB) November 14, 2013
MugenBattery.com (http://www.mugenbattery.com), an authorized Mugen Power Battery Distributor, announces the launch of new extended battery for Verizon Casio G'zOne Commando 4G LTE. The extended 4800mAh battery by Mugen Power provides more than double the capacity of the original 1800mAh Casio battery. More information about the battery can be found on MugenBattery.com (http://www.mugenbattery.com/mugen-power-extended-4800mah-battery-for-casio-gzone-commando-4g-lte/).
The Casio G'zOne Commando 4G LTE is a quantum leap in technology and offers the supreme convenience of an all-in-one device. With such features as GPS, Wifi, Email, Blutooth, Text, Games, Video, Internet offered by this device, the original battery needs to be constantly charged. Sure, the setting on the phone can be modified to preserve battery life, but what is the point of having a powerful and multifunction phone if you do not utilize all of its great features? With the extended 4800mAh battery you can use all the features on the phone and you don't have to worry about constantly charging it.
Since the extended battery is thicker, it comes with a custom back cover to accommodate the larger battery which makes the phone easier to hold. The custom door cover is designed to match the phone's original color and finish.
ABOUT MUGEN POWER BATTERIES:
Mugen Power is the worldwide leading brand of high performance batteries for portable electronic devices. Mugen Power means performance and quality and delivers a full spectrum of high quality products for PDAs, Smartphones, digital cameras, camcorders, MP3 players, portable DVD players, notebooks, UMPCs and Personal Media Devices.
All Mugen Power batteries are CE and RoHS Certified.