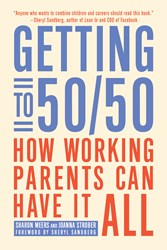 "Anyone who wants to combine children and careers should read this book. Getting to 50/50 shows you how the integration of professional achievement and family life can strengthen, rather than weaken, each part."—Sheryl Sandberg, COO, Facebook
(PRWEB) November 14, 2013
Sharon Meers, co-author of Getting to 50/50: How Working Parents Can Have It All, provides hands-on tips for workplace and home life, and how to get the most out of both with minimal stress. She was recently quoted in the Huffington Post article on "Nine Things Successful People Do After Work." She advocates "unplugging" from all technology, even if it's just for one hour, to cultivate connectedness within a family.
Meers also stresses the importance of fathers being actively involved in the home sphere. Harvard Business School has a program called "Manbassadors" that strives to get men involved in the conversation about gender and the workplace, and what parts men and women should play in the home.
Sharon Meers and Joanna Strober are two working moms who believe that everyone wins when men are full parents and women have full careers. The key is tapping into your best resource and most powerful ally: your spouse. Here are real-world solutions for parents who want to get ahead in their careers and still get to their children's soccer games; strategies for working mothers facing gender bias in the workplace; advice to fathers new to the home front; and tips for finding 50/50 solutions to deal with issues of money, time and much more.
Sharon Meers is the co-author of "Getting to 50/50: How Working Parents Can Have It All," now out in paperback with Viva Editions. Find her online at @gettingto50_50, Facebook.com/Gettingto5050 and http://www.gettingto5050.com. Sharon leads Enterprise strategy at Magento, the global ecommerce platform of eBay, and was formerly a Managing Director at Goldman Sachs.