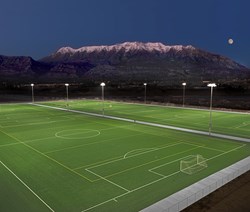 ".....we can program our facilities to accommodate more play and more students on fields that are durable and consistent in their performance characteristics." Jen Berrett
Orem, Utah (PRWEB) November 14, 2013
Utah Valley University recently completed the installation of four new Shaw Sports Turf intramural fields at the spectacular new Geneva Fields complex.
The fields, made from Shaw Sports Turf's PowerBlade HP system, comprise 412,000 square feet of playing space on the site of the old Geneva Steel Factory. The 1,750 acre site is currently under development, with 100 acres being devoted to academic buildings and intramural fields for the university, with the option to add another 150 acres.
The area is also being developed into a massive mixed use area which will feature:

11 million square feet of total available space, supporting 20,000 jobs
7,600 residential units, providing housing for 26,000 residents
2 million square feet of retail space
3.5 million square feet of office space
5 million square feet of industrial space
intermodal hub
major town center
theater complex with and IMAX and 13 auditoriums
The fields, though, are a focal point for the area, sitting at the foot of Mount Timpanogos. The Geneva Fields will also be a focal point for the more than 33,000 students at Utah's largest state university.
According to Jen Berrett, the Intramurals Coordinator with the school, even though the fields have just been completed, nearly 1,000 students are already utilizing them.
"We are busy Monday through Thursday," said Berrett. "We have the school's athletic teams, club sport, and intramurals utilizing the fields for everything from soccer, rugby, lacrosse, flag football, and ultimate.
Berrett says the fields have been important to the university for several reasons.
"Soccer and rugby would wear out our grass fields and we would typically have two or three fields we could utilize," said Berrett. "Now, with four fields and lights for night play, we can program our facilities to accommodate more play and more students on fields that are durable and consistent in their performance characteristics."
She also cited two other important benefits for the school.
"While there is some maintenance involved, the Shaw Sports Turf fields have cut back on our maintenance needs such as painting and mowing," said Berrett. "The fields have also provided a benefit in that they look great and show the university's commitment to facilities. This is big for recruiting student-athletes and the student body in general."
In fact, according to a study in Recreational Sports Journal, 31% of college students said that intramural sports were an important factor in deciding to attend a school.
Intramural sports have now been on college campuses in the United States for 100 years and continue to grow as an integral part of university life, according to the National Intramural-Recreational Sports Association (NIRSA). Approximately 5.3 million students who attend schools which offer recreational sports programs, participate or use the facilities offered by these programs. That represents 75% of the total number of students at school's offering recreational sports.
Club sports are also very important, with over 80 sports being offered and nearly 11,000 clubs participating at colleges in the U.S.
Over the last five years, NIRSA estimated spending of over $4 billion on recreational sports facility construction.
"This is a great project," said Craig Edwards, Territory Manager for Shaw Sports Turf. "You can't ask for a more beautiful setting and we're excited about what these fields will do toward enhancing the college experience of Utah Valley University Students and preparing them to achieve more in their lives."
Hogan & Associates of Centerville served as general contractor on the project, with Academy Sports Turf of Englewood, Colorado acted as sub-contractor.
Shaw Sports Turf is a division of Shaw Industries, a wholly-owned subsidiary of Berkshire Hathaway Inc., Shaw Industries is the world's largest carpet manufacturer and a full flooring provider to the residential and commercial markets. Shaw supplies carpet, rugs, hardwood, laminate, resilient, and tile/stone flooring products, as well as synthetic turf.
Shaw Sports Turf has over 1,500 successful installations, including an impressive list of high-profile field installations such as the Baltimore Ravens, San Francisco 49ers, Vanderbilt University, and more.