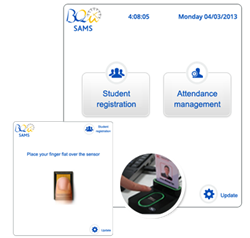 London, UK (PRWEB UK) 14 November 2013
For smaller institutions, it is now possible to gain all the benefits of the leading cloud-based Student Attendance Management System (SAMS), without spending anything at all on set up costs.
In addition, the running costs of the entry level system are less than the cost of employing an administrator for one hour per day.
BQuSAMS ensures simple and cost effective compliance with Tier 4 requirements for overseas students by capturing student attendance data without the need for taking registers.
The attendance data is analysed and displayed instantly in real time on the easy to read dashboard, enabling immediate identification of students who are late or absent without authorisation.
Responsible staff can easily manage the attendance data and contact students through the system by SMS, email, telephone or letter and keep records of all those communications, ensuring simple compliance.
Most manual systems involve the taking of registers, transferring data into spreadsheets before collating, further data transfer and then data analysis, before being able to identify potential issues. This all takes up an enormous amount of staff time, so the operational costs are often frightening.
The time this process takes often means that it is too late to take any meaningful action by the time any issues have been highlighted.
Repeatedly keying in attendance data onto spreadsheets invariably brings in unintentional errors, so as well as being late and costly, the resulting information is often unreliable. This is massively demotivating for the staff involved as they know that the system they are doing their best with is not fit for purpose and costs far too much.
A new development by BQuSAMS means that the student attendance data can now be gathered electronically without spending any money on hardware.
This brings the best SAMS within reach of every educational establishment, no matter how big or small. There is no upfront capital sum required to install the system, just a simple monthly fee. For an entry level system, the cost is less than the employment cost of one hour per day of an administrator.
Compare this with the time and costs taken up by this labour intensive process and it is, as they say, a "No brainer".
For larger organisations, data gathering devices start from £30 each, so even a more sophisticated system is surprisingly cost effective to install and run.
BQuSAMS are happy to discuss individual organisational needs and to match a system in both functionality and cost to our customer's needs.
A good Attendance Management Policy supported by a good Student Attendance Management System can deliver the following benefits to Students and their institution:

Tier 4 Compliance
Improved Student Attendance and engagement
Improved communications with students and staff
Reductions in operational costs
Improved staff morale
Increasing evidence of correlation between attendance and attainment
Health & Safety, Duty of Care
Improved student retention
Improved revenues
Improved institutional reputation
Increased demand from new students
BQuSAMS (Student Attendance Management System) ensures that users can easily implement their Student Attendance Policy, helping to improve attendance and engagement, improving the student experience and compliance with Tier 4 licence obligations in an efficient and cost effective manner.
A good Student Attendance Management System (SAMS) will produce accurate data to evidence the engagement and progress made by their students and enables cost effective reporting to their stakeholders.
A further benefit is that the systems real time reporting enables staff to easily identify students whose attendance and engagement is below expectation immediately. They can then make effective intervention to work with the student concerned and provide appropriate support and encouragement to get them back on track.
This has a profound positive affect on student retention, which greatly improves revenues with.
It also leads to improvements in the numbers of students completing and attaining their qualification, which enhances the reputation of the university.
The SAMS also enables colleges and universities to fulfil their requirements for Tier 4 licence compliance for tracking student's attendance and study engagement and to be able to quickly provide evidence if required. This can be an enormously time consuming, costly and inefficient process, which often fails to deliver the necessary information needed to comply.
For more information, please see the BQuTMS website on http://www.bqutms.com/overview.html.