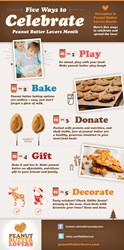 Canton, GA (PRWEB) November 15, 2013
November is Peanut Butter Lovers Month, a time for food lovers to spotlight the creamy, crunchy, protein-packed goodness that is peanut butter.
Although most of the 90 percent of US households with peanut butter in their pantries eat the protein-packed food in the form of a sandwich (or snacking out of a jar), there are hundreds of other ways to use this household staple.
To help spread the PB love throughout November and beyond, Southern Peanut Growers is suggesting five delicious ways to celebrate National Peanut Butter Lovers Month, found in this helpful infographic and here:
1. Play – Go ahead, play with your food: Make peanut butter play dough. As loved ones of all ages come together for the holidays, think about making Peanut Butter Play Dough for the younger members of the family.
2. Bake – With its rich and creamy texture, peanut butter is an excellent addition to any indulgent holiday recipe, such as Peanut Butter Breakfast Pudding with Maple-Peanut Sauce and Peanut Butter Lover's Pie. Plus, peanut butter is naturally cholesterol free. This indulgent, healthy combo makes the naughty and the nice list.
3. Donate – One 2-tablespoon serving of peanut butter provides 8 grams of protein, is less than 20 cents per serving and is shelf-stable for up to two years. Making a peanut butter donation is a gift anyone can appreciate. Find a food bank near you.
4. Gift – Bake it and box it, then put a bow on it. From classic peanut butter cookies to homemade granola bars, peanut butter is an affordable, nutritious and tasty gift for friends and family.
5. Decorate – Peanut butter cookies are the perfect way to dress up the holidays. The only limit is your own creativity. Try cookies in the shape of fall leaves, reindeer or even Santa. Move the holiday decorating outdoors by adding peanut butter and bird seed to pine cones.
More recipes and ideas are available at http://www.peanutbutterlovers.com. Follow Southern Peanut Growers' Facebook, Twitter and Pinterest accounts for #PBLove inspiration all month long.
About Southern Peanut Growers:
Established in 1980, Southern Peanut Growers is a non-profit trade association representing peanut farmers in Georgia, Alabama, Florida and Mississippi. The organization educates American consumers about the U.S. peanut industry and its products.
# # #