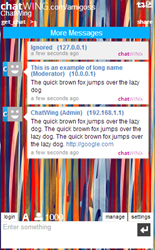 New York, NY (PRWEB) November 14, 2013
Chatwing Development Team has taken another step for their premier chat widgets: the Instagram login feature. This enhancement is considered as the quick follow-up to the Tumblr login feature, all because of high online demand. The developers have also stated that the Instagram login is essential for users to create more connections in the cyberspace. Here are Chatwing's chat software key reasons for launching the Instagram login:

Leverage for Instagram users. Based on global online research, Instagram communities are growing by the minute. Users are taking advantage of the app when it comes to sharing their pictures and videos. With Chatwing's Instagram login, the company has expanded its online reach. Now, Instagram users can find more buddies to share their masterpieces with.
Another push for Instagram website chat marketers. Several studies have pointed out that people respond to visual content at a higher rate, compared to written content. This is the reason why some marketers are using Instagram for their campaigns. The application helps them in gaining web traffic and exposure. Now that Instagram marketers can use the Chatwing chat tool, they can gain access to more web communities—thus increasing their reach.
Increased advocacy exposure. Instagram is all about sending a message. This statement has been proven by online advocates from many parts of the world. With the Chatwing chat app, Instagram advocates can provide additional information to their messages. This will make the advocacies stronger than ever.
Currently, the Instagram login method is gaining popularity in the cyberspace. The Chatwing chat app team is working hard in spreading the information regarding this latest platform enhancement.
About Chatwing.com
Chatwing.com is a company that has brought innovation to the modern chat widget. Operating for more than five years now, Chatwing and its team of developers have dozens of ideas ready to be introduced to the public. The Chatwing chat app is an easy-to-use online tool that can help web users interact with each other and can also generate continuous traffic. Chatwing will always be a "freemium" application for everyone.