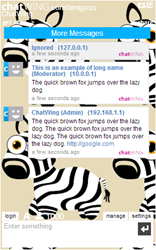 Cambridge, MA (PRWEB) November 15, 2013
As part of Chatwing's newest expansion initiative, the company has launched the Instagram chatroom app. With this versatile tool, users can now log in through their Instagram accounts. Additionally, they can use the tool for social networking purposes. Chatwing developers have emphasized other key aspects of their renowned chat widget.

Visual exposure. Many professional studies have indicated that customers tend to respond to visual campaigns at a higher rate, compared to regular content. Visual exposure is the advantage of the Instagram app. By utilizing a chatroom integrated with the Instagram app, web users can deliver stronger marketing messages.
Additional data relay. The Chatwing chat app is created to help web users relay data to each other. Visitors of the chat software are free to inquire about any product or service and they can even use other social media login methods, such as Facebook, Twitter, Google, Yahoo, and Tumblr. Chatroom owners can also maintain their subscriber groups at a regular pace.
An avenue of file sharing. Instagram users can use the Chatwing chat app widget to share their creations, such as filtered images and improved videos. If they have websites, the Chatwing tool can also help them generate web traffic and make new friends.
To use the Instagram login, users should register in the Chatwing website chat software database. Registration can be done in a few seconds since the platform only requires email address and a custom password. From there, unlimited chatroom creation can begin smoothly.
About Chatwing.com
Chatwing.com is a company that has brought innovation to the modern chat widget. Operating for more than five years now, Chatwing and its team of developers have dozens of ideas ready to be introduced to the public. The Chatwing chat app is an easy-to-use online tool that can help web users interact with each other and can also generate continuous traffic. Chatwing will always be a "freemium" application for everyone.