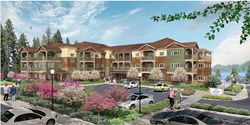 Kingston & West Sound Region, WA (PRWEB) November 14, 2013
Event date: Friday, November 22, 2013 1-3 pm
On-site Press Conference: 12:30 pm
Providing affordable senior housing is a vital Kitsap County regional initiative, and an innovative private-public partnership that set out to fulfill this need has made it a reality in Kingston. On Friday, November 22, 2013, from 1 to 3 pm, the grand opening celebration of Martha & Mary's Village Green Senior Apartments at 26150 Dulay Road NE, Kingston, will showcase not only the 35-unit award-winning independent living residence, but will honor the many partners that made it possible. A 1:00 pm dedication ceremony will be followed by refreshments and tours, and the public is encouraged to attend. One and two bedroom rental apartments are still available, priced from $610 to $885 per month, and designed to serve seniors ages 62 and over and people with disabilities of any age. Income guidelines apply. See http://www.villagegreenseniorliving.com or call 425-423-0304 or 360-265-8026 for information.
Martha & Mary Village Green Senior Apartments are part of a community initiative called the Village Green in Kingston, which also includes a neighboring park, Boys & Girls Club, senior center, new library, and other amenities under development - all convenient to downtown Kingston. County Commissioner Rob Gelder recalls the project's early beginnings over four years ago when Martha & Mary was asked to step in as the non-profit partner, replacing Housing Kitsap, to help fulfill the component of affordable housing in the Village Green vision. "It's a pleasure to see this come to fruition," says Commissioner Gelder. "This project brings generations together on many levels, addressing not only the heightened need for quality, affordable senior housing, but also creating a strong connection for its residents to many vibrant aspects of the Kingston community."
"Kingston Village Green is also the only project in Kitsap County recognized this year with the Puget Sound Regional Council's VISION 2040 award, of which we are very proud," Commissioner Gelder notes. VISION 2040 is a regional strategy for accommodating the 5 million people expected to live in the region by 2040, and it honors partnerships that take into account social, cultural, economic, and environmental benefits in decision-making and implementation. Village Green Senior Apartments are also built to Evergreen Sustainable Development standards, and the campus includes a long list of lifestyle amenities for comfortable senior living, plus beautifully landscaped grounds and a community garden. All units have private patios or decks, and many have water views.
Village Green Senior Apartments is an $8.8 million dollar culmination of a joint venture between non-profit provider Martha & Mary and Shelter Resources, Inc., a Bellevue-based private developer. This partnership began a venture called Village Green Kingston Associates, LLLP, which obtained $7 million in tax credits in 2011 through a competitive process. Additional financing sources were secured through several multifaceted avenues, including the U.S. Department of Agriculture and the Kitsap County HOME funds program. The initiative also partners with the local Metropolitan Park District.
Len Brannen is President of Shelter Resources, Inc., and his company is thrilled with the location and quality of the project. "I especially recognize the key financial contribution made to this project by Kitsap County and its Department of Human Services. Their commitment of vital resources to the Village Green effort really pushed the project over the top and enabled it to proceed," notes Brannen. "In addition, there was a large circle of other players. These include Kitsap County Commissioner Rob Gelder, the Metropolitan Parks Department and the Village Green Foundation, the Washington State Housing Finance Commission, USDA, Key Bank, and of course, the project sponsor, Martha & Mary. Everyone demonstrated a resilient attitude of cooperation on a complicated project to enable this completion." Brannen adds "Though it is sometimes in vogue these days to be critical of government participation, on this project it was mandatory, appreciated, and vital to the positive result now benefitting the seniors and future residents of Kingston and Kitsap County."
The Village Green Senior Apartments is a welcome addition to the Senior Living program in Martha & Mary's family of services, expanding its footprint even more deeply into Kingston. "Martha & Mary's mission has been to serve the seniors, families, and children of our region for more than 120 years," says CEO Chad Solvie. "Affordable housing is a vital component in this service solution, and we're proud to be affiliated with such a quality campus. It's a natural fit for the continuum of care we offer seniors, complementing the long-term care and rehabilitation programs at our main Poulsbo campus, as well as extending Martha & Mary AT HOME services into North Kitsap." Martha & Mary has partnered with Guardian Management, LLC, of Portland, Oregon to manage resident leasing and the community. A community manager will live on-site to handle leasing activity, resident needs, and facilitate fun, enriching activity programs throughout the year.
The November 22nd opening of Village Green Senior Apartments is a leading milestone in the Kingston community's vision of the entire Village Green complex. Bobbie Moore is Chair of the Village Green Metropolitan Park District Commission and liaison to the board of the non-profit Village Green Foundation. "This is a long-awaited moment, and it is helpful to the community in more than one way," Moore explains. "The proceeds from the sale of the apartment land property were entrusted to the Village Green MPD toward the development this remarkable community campus. As the apartments are being completed, we now have the basic infrastructure in place to head towards groundbreaking for the adjacent community center and library." Moore emphasizes that they have additional fundraising to do, but the apartment opening is a major step, bringing decades of community planning and vision to fruition. She's excited about the intergenerational programs and relationships that can result. "Looking forward, I know that having youth and older adults in the same proximity will benefit everyone," she says. For more information on the Village Green Foundation and its needs and vision, see http://www.kingstonvillagegreen.org.
The Village Green Senior Apartments have generated tremendous interest in the community and surrounding area since breaking ground last August. The project is currently 70% pre-leased, and all interested parties are encouraged to contact the property management office for more information at (425) 423-0304, (360) 265-8025, or visit the community website: http://www.villagegreenseniorliving.com.
About Martha & Mary:
With over 600 employees, Martha & Mary is one of the largest and most comprehensive providers of senior healthcare in Kitsap County, serving the Kitsap Peninsula & West Sound region for over 120 years as an award-winning not-for-profit organization. The Health and Rehab Center in Poulsbo provides short-term rehabilitation programs as well as traditional long-term care services. The Village Green campus joins the family of programs that Martha & Mary offers, including: At-Home Care, Care Management, Short-term Rehabilitation, Long-term Care, Senior Living, and Children's Services in its three early learning centers and regional before & after school programs. To learn more visit http://www.marthaandmary.org.
About Shelter Resources, Inc.:
Operating from its regional office in Bellevue, Washington, Shelter Resources, Inc. (SRI) develops and renovates a full range of affordable housing. The firm has built or renovated 4,665 apartment units in inner-city, suburban and rural communities within the Western States of Washington, Oregon, Alaska, Arizona and Idaho. Over 2,200 of these apartment units are located in approximately 50 communities serving senior citizens. Some of these facilities are congregate care and assisted living complexes. Many projects involve local government participation and/or joint ventures with non-profit organizations.
Village Green Apartments feature:
● 35 one and two bedroom independent living apartments designed for comfort and convenience.
● Award-winning design, built to Evergreen Sustainable Development Standards.
● Sweeping views of Puget Sound.
● Easy access to downtown Kingston and ferry dock, and adjacent to a public park.
● Private decks or patios with each residence.
● Fully-equipped kitchens and energy-efficient appliances.
● Cable and high speed internet ready.
● Community room & 24-hour fitness center.
● Multiple community lounges and patios.
● 24-hour professional on-site management.
● Secure coded entry/exit.
● Beautifully landscaped grounds and a community vegetable garden.
● Ample parking and handicapped accessibility.
● Laundry facilities on multiple floors.
● Pet-friendly and smoke-free facility.
Project Partners Include:
Ownership Entity – Village Green Kingston Associates, LLLP:
Martha & Mary, General Partner, Poulsbo, WA - Chad Solvie, CEO http://www.marthaandmary.org
Developer - Shelter Resources, Inc., Bellevue, WA - Len Brannen, President
Architect - Tonkin/Hoyne - Seattle, WA
General Contractor – Dawson Construction, Kingston, WA
On-site Management - Guardian Management, LLC, Portland, OR
Tax Credit Investor – Key Community Development Corp.
Permanent Financing – USDA Rural Development
Funding also through Kitsap County 20/60 & HOME Funds
Construction Financing – Key Bank
Conventional Loan – Washington Community Reinvestment Association (WCRA)
Village Green Metropolitan Park District
Contact: Chad Solvie, CEO, Martha & Mary 360-394-4010 csolvie(at)mmhc(dot)org
Meghan Hill, Guardian Real Estate Services 503-802-3514 meghan(dot)hill(at)gres(dot)com
Media Contact: Lisa B. Martin, Martha & Mary 508-284-0078, lisa(at)lisabmartin(dot)com