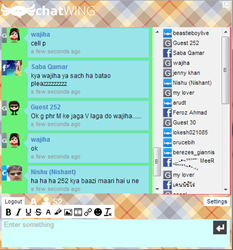 Boston, MA (PRWEB) November 17, 2013
Chatwing.com has recently introduced the Instagram chat login option for websites and business owners who are building online subscriber groups. This strategic move is part of Chatwing's initiative which aims to improve the way people communicate online.
"Instagram users number in millions nowadays," says Shelly Miller—one of Chatwing's professional researchers. "This latest enhancement can help all Chatwing users gain exposure in different ways possible. Website admins and business owners, I presume, should not let go of this opportunity. Chatwing website chat widget is very easy to install, yet it can give long-term solutions. If the business owners are doing Instagram marketing campaigns, then the Chatwing chat software tool can raise the efficiency of those campaigns."
The Chatwing widget is known for its social media login choices. The first methods introduced were Facebook and Twitter. These were proven as powerful methods since they have millions of subscribers per month. Google and Yahoo login methods followed, thus benefiting thousands of email marketers and newsletter authors. Tumblr login was introduced next, serving microbloggers and photo bloggers who want to gain online visibility. While the Instagram login is new, it is expected to generate continuous buzz in a matter of weeks.
Web users who want to know more about the new features and upgrades of the Chawing chat app tool can visit the company's Facebook page. Periodically, the developers are posting important content, such as updates and maintenance schedules.
About Chatwing.com
Chatwing.com is a company that has brought innovation to the modern chat widget. Operating for more than five years now, Chatwing and its team of developers have dozens of ideas ready to be introduced to the public. The Chatwing chat app is an easy-to-use online tool that can help web users interact with each other and can also generate continuous traffic. Chatwing will always be a "freemium" application for everyone.