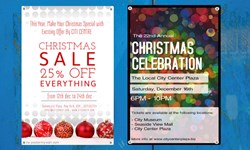 Dramatically less expensive than traditional graphic design alternatives.
Foster City, CA (PRWEB) November 19, 2013
Small business owners are maximizing their marketing dollars with PosterMyWall.com's expanded library of poster and flyer templates. PosterMyWall is introducing hundreds of pre-set templates that enable anyone to create professional, high quality business and event promotions—with no investment in graphics, artwork, or designers.
Customers rave about PosterMyWall's flexibility, quality and large array of printing options. "It is fast and easy to create an impressive marketing statement—and dramatically less expensive than traditional graphic design alternatives," says founder, Amabel Apsay. Digital downloads range from low res to ultra high res. Customers can print them in-house or at their favorite print shop. Sharing tools enable easy sharing of PosterMyWall art via email and social media.
PosterMyWall has also introduced flyer printing packages customized for small business needs. A pack of twenty-five 7.33" x 11" high quality color prints on 100# semi-gloss brochure paper is only $39.99. Or purchase a digital download and print your fliers yourself.
PosterMyWall tools include tens of thousands of graphic, font, background, and clipart choices. Find examples, ideas, and inspiration through our sample library. You can also add your own custom logos, backgrounds, and graphics.
Try PosterMyWall's small business solutions at http://www.postermywall.com.
PosterMyWall.com is a web-based poster and collage maker. Our stock art, tools and templates enable anyone to create high quality graphics quickly and affordably—no artistic talent required. People use our service to create everything from personal keepsakes and photo collages—to small business marketing and promotional flyers.
PosterMyWall and PosterMyWall.com are trademarks of 250Mils.