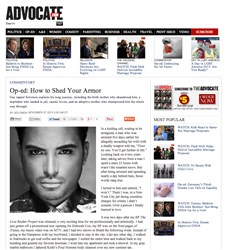 I hate I ever mentioned myself as being gay...
New York, NY (PRWEB) November 14, 2013
After making national headlines on New York Daily News, BET and AllHipHop.com for blasting Eminem's usage of gay slurs, the very personal Solomon has opened up in a very intimate article written for Advocate Magazine. The article sheds light on Solomon's struggles with a mother on drugs, a father in prison and his ongoing trust issues after a 2011 arrest following his EP, The Love Rocker Project.
READ THE FULL ARTICLE AT ADVOCATE.COM
http://goo.gl/nan9nx
Also this month Solomon sat down with DNA Magazine and Evoke Magazine for a one on one interview. The openly gay artist spoke with DNA about religion, his upbringing and more. Telling DNA Magazine that due to his very religious Baptist background, being gay was an issue with his father. But with time eventually his father, "opened his heart and mind."
READ THE FULL INTERVIEW WITH DNA MAGAZINE HERE:
http://goo.gl/TUpbvb
In support of his upcoming EP Le Garçon, Solomon told Evoke Magazine's Luis Gonzalez that he actually regrets being so open about his sexuality. He tells Evoke, "To be honest, I hate I ever mentioned myself as being gay because then you're a 'gay artist' and a lot of gay artists are horrible. They were just decent looking guys who tried to be a Britney or a Gaga, and made it hard for others to be seen as artistic," Solomon says. "It doesn't define my music. My life defines my music and I define my life."
With his current lead single "Swim No More" off Le Garçon, pleasing fans and critics, Solomon is excited to share his latest EP scheduled for a late January 2014 release. Le Garçon will be available in two versions. A standard version available worldwide for free download, as well as a deluxe version available two weeks prior exclusively on iTunes. The deluxe version will not only contain new music, but bonus tracks, a hidden song, poems, interludes and a digital booklet as well.
ABOUT SOLOMON: Born a Capricorn in San Diego, CA, Solomon is a Electronic Hip-Pop singer/songwriter, rapper and producer. Introduced in 2008 on Eminem's Shade45 Sirius Radio Show, the artist has gone on to release a plethora of singles, remixes, EP's and mix-tapes. His last single, "Life Goes On…" proved to be a success on Sirius/XM and Pandora radio. With music videos debuting on MTV, VEVO, Logo's NewNowNext and more, the singer has toured with the likes of Deborah Cox, Kelly Rowland and headlined a show at West Hollywood's Key Club. Solomon is currently in the studio working on his debut album, Why Boys Cry, slated for a 2014 release. For all things Solomon, please visit solomon-music.com.