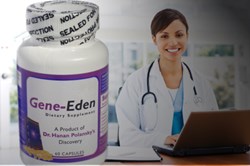 Natural products could be one of the best choices for development of new treatments for latent herpesvirus infection. - Journal of Microbiology (1)
Rochester, NY (PRWEB) November 16, 2013
More than 90% of adults have been infected with at least one human herpesvirus, such as HSV-1 or HSV-2, which establish long-term latent infection for the life of the host. There are anti-viral drugs such as acyclovir that are designed to limit virus replication, but most of these drugs don't work against a latent infection. Moreover, the herpes virus has been steadily developing resistance to traditional medications used to treat herpes infections.
"(Because of) resistance to acyclovir and related nucleoside analogues … there exists an unmet medical need to develop new anti-herpesvirus agents with different mechanisms of action (1)."
"Natural products including extracts and pure compounds made from herbal sources show anti-herpetic properties (1)." Gene-Eden-VIR is one such product. It is an effective, natural antiviral that meets the medical need for new anti-herpes agents. Among the natural ingredients discussed in the study, is Glycyrrhizic acid, which comes from licorice, shows promising anti-herpes properties (1). Gene-Eden-VIR's patent protected formula contains licorice extract, as well as four other proven, naturally antiviral herbs and minerals.
Gene-Eden-VIR was designed by polyDNA scientists to help the immune system target the latent herpes virus. A recent post marketing clinical study published on August 12, 2013 in the peer reviewed, medical journal Pharmacology & Pharmacy, in a special edition on Advances in Antiviral Drugs, showed that Gene-Eden-VIR reduced herpes symptoms. Study authors wrote that, "Individuals infected with the herpes virus…reported a safe decrease in their symptoms following treatment with Gene-Eden-VIR (2)."
Each ingredient of Gene-Eden-VIR was chosen through a scientific approach. Scientists scanned thousands of scientific and medical papers published in various medical and scientific journals around the world to identify the safest, most effective natural ingredients that target the latent form of HSV. (2)
To learn more about Gene-Eden-VIR, and the latent Herpes virus, visit http://gene-eden-kill-virus.com/Herpes-Remedy.php. All orders of Gene-Eden-VIR are completely confidential, and no information is shared or sold to any third party. Privacy is assured.
References:
(1) http://www.ncbi.nlm.nih.gov/pubmed/24173639
(2) http://gene-eden-kill-virus.com/PP_Gene-Eden-VIR-is-Antiviral.pdf
polyDNA is a biotechnology company that develops dietary supplements using the unique scientific method developed by Dr. Hanan Polansky, which is based on Computer Intuition.
In addition to his unique scientific method, Dr. Polansky published the highly acclaimed scientific discovery, called Microcompetition with Foreign DNA. The discovery explains how foreign DNA fragments, and specifically, DNA of latent viruses, cause most major diseases.
polyDNA developed Gene-Eden-VIR, an antiviral natural remedy that helps the immune system kill latent viruses.