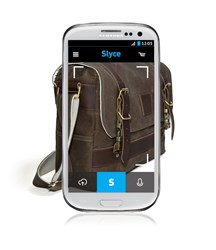 In my experience, the Holy Grail for brands is to interact with shoppers at their moment of inspiration
Calgary, Alberta (PRWEB) November 14, 2013
The latest raise comes hot on the heels of the $3.75M seed round announced earlier in the year and will allow them to finalize their consumer-focused platform and further pursue extensive B2B opportunities, supplying their advanced visual search technology to brands and retailers.
Note: The latest capital raised will automatically convert into the Slyce A round, due to officially open in early November, 2013.
Strategic Mobile Commerce Tech Appointment - Mark Elfenbein
Slyce also announced the appointment of key mobile commerce tech specialist, Mark Elfenbein to their expanding team, in the position of Chief Digital Officer.
"I saw this as a golden opportunity in a sector which has massive growth potential. In my experience, the Holy Grail for brands is to interact with shoppers at their moment of inspiration and Slyce has developed a unique platform making that possible. Expect to see a rapid adoption of this technology in the next 12 months and utilizations by brands and retailers that will bring incredible innovation to the consumer M-Commerce experience," said Elfenbein.
Prior to the appointment, Elfenbein spent five years with Mood Media in the roles of President Mood Media North America and Chief Business Development Officer. He oversaw the company's sales and business development efforts during a massive growth phase, forming partnerships with some of the world's largest retailers including Macy's, Quicksilver and Abercrombie as well as entering into strategic technology mobile commerce partnerships with Yahoo, Shazam, Shopkick and Tripadvisor, transforming the in-store space.
Previous to that, Mr. Elfenbein co-founded SkillJam.com (now GSN Cash Games), which became the Internet's largest pay-to-play skill games company with over 25 million registered users. SkillJam was the core asset of Fun Technologies (Toronto and London stock exchange), which was acquired by Liberty Media in 2007 for $450M.
Slyce CEO Cameron Chell remarked, "Mark will offer incredible insight and expertise as we work with more leading brands & retailers to develop their visual search strategies. His industry knowledge will be invaluable for our growth."
Release of the Slyce app for Android & iPhone is expected January 2014. Brands and beta testers are currently signing up at http://www.Slyce.it.
Photos and video are available on request.
--ENDS--
About Slyce
Slyce harnesses the full potential of mobile commerce through its advanced identification platform. For consumers it eliminates the barriers to purchase by allowing users to act on their desires, at the moment they occur. The Slyce platform will seamlessly operate on all smart devices and will allow consumers and brands to develop stronger relationships through a unique and mutually beneficial reward structure.
Web: http://www.SlyceCommerce.com
Twitter: http://www.twitter.com/SlyceIt
Facebook: https://www.facebook.com/slyceit
For further information and interviews, please contact:
Josh Stanbury | Slyce | josh(at)slyce(dot)it | 403-781-6671