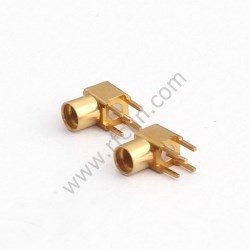 (PRWEB) November 14, 2013
When the number of connector suppliers becomes too large, how will customers be able to determine which is the one that offers the best products? RFcnn.com knows that picking the right company of connectors is difficult nowadays.
As an innovative RF connector manufacturer, RFcnn.com knows well about the exact needs of customers. In the current market, plenty of connectors are expensive, eating up a large amount of money. While sometimes the high-priced products are not of high quality. This kind of problems and concerns make the selection process much hard.
Because of the fact that customers are often confused when it comes to picking good connectors among thousands of choices, the company feels obligated to facilitated them by offering more affordable, excellent products. That's why it has recently announced its new range of right angle RF connector products. At the same time, it promises to take the extra mile to serve worldwide customers better. This gives birth to a huge selection of inexpensive connectors that help out a lot of the international customers
Great customer service is another distinguishing feature of the company. It puts customer satisfaction in a very important position. The online service center works day and night.
About RFcnn.com
RFcnn.com is an online shop of Zhenjiang Fourstar Electronics Co. LTD, which is a China based company that aims to provide customers with high quality products at the lowest possible prices. Customers can try the company's products through sample orders with a long-term contract. Most customers come back soon after receiving their first deals.
More details about the company's high quality connectors can be found at http://www.rfcnn.com/MMCX-Female-Right-Angle-PCB-RF-Connector-100.html.