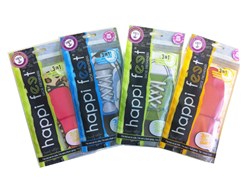 "We saw a gap in the market for a new and fashionable and non embarrassing approach to shoe freshening. Making it funky removes the stigma of smelly shoes and feet. Happi Feet look and smell great."
Christchurch, Dorset (PRWEB UK) 26 November 2013
Got some favourite shoes but hate that they have become a little cheesy? Fear no more. Happi Feet Shoe Fresheners have arrived.
Refreshing shoes needn't be an embarrassing feat. Happi Feet Shoe Fresheners have been created to be a fashion friendly, non embarrassing solution to shoe freshening. These clever little fragranced fresheners slip into shoes and are secured with a band allowing the air to circulate around the insole. What's more, the once dull interior of shoes becomes bright and funky!
Simple yet effective - Containing a deodoriser, the fragrances (Freshly Laundered, Madagascan Vanilla, Japanese Cherry Blossom and Caribbean Beach Breeze) deodorise and reduce everyday shoe odour, leaving shoes and the air around them i.e. wardrobes, sports bags or shoe racks, smelling fresh.
Happi Feet shoe fresheners also come in a range of styles (Sport, Smart and Casual) and what is great is that one size fits all. There is no need to cut to size! Simply put them in shoes when taking shoes off, and take them out before putting shoes back on. They can even be stored in the resealable bag they come in, prolonging the life of the Happi Feet.
Happi Feet Shoe Fresheners really are the answer to droll shoe freshening, whilst being funky and versatile too. Why not hang in a car?
Lisa Weston, Brand Manager for Happi Feet comments: "We saw a gap in the market for a new and fashionable and non embarrassing approach to shoe freshening. Making it funky removes the stigma of smelly shoes and feet. Happi Feet look and smell great."
Solent Group are delighted to introduce Happi Feet. The freshest product innovation seen in shoes since Party Feet. Try Happi Feet for yourself and take shoes to a 'Happi' place. Is it time for a 're-shoe-vination'?