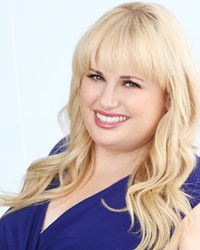 Now that I am in a fortunate position it feels good to give back.
Arusha, Tanzania (PRWEB) November 15, 2013
Australian actress Rebel Wilson, nominated for the People's Choice Award 2014 for her work in the ABC comedy Super Fun Night, may be famous for making people laugh, but one topic is no joking matter for her: education.
Rebel was a very serious student in high school and after graduation was accepted into law school.
"Even though I now work in the entertainment industry and get to make people laugh, when I was at school I tried hard in all my subjects and my final exam results got me into the top law school in Australia," wrote the Bridesmaids and Pitch Perfect actress.
Wilson revealed that piece of her history in a letter of advice to her sponsored student, an 11th grader from The School of St Jude, a non-profit school providing a free, high-quality education to over 1,600 poor students near Mount Kilimanjaro, in Tanzania.
"Education is your key to opportunity. I know I come from Australia, but I didn't grow up with much. I just believed in myself and tried to always improve. My advice would be to try your absolute hardest at school. Study hard and try different activities so that when you finish secondary school there will be lots of opportunities for you to pursue. When it comes time to decide what to do with your life I would say choose what you're passionate about and then work out a way to profit from that. Becoming an actress was the most risky path I could have taken, but it's been such a fun path and the risk has more than paid off."
Wilson got involved with the non-profit school in 2006, after she saw a documentary on ABC Australia about St Jude's and its founder, an Australian teacher named Gemma Sisia.
"I just thought it was such an amazing idea and Gemma was really inspiring," says Wilson.
Africa has had an important role in the actress' life.
As a Rotary International Youth Ambassador for Australia, she lived in South Africa for a year, and traveled to rural areas in Swaziland, Malawi, Zimbabwe and Mozambique where kids had limited education or resources.
In one of these trips, Wilson got sick with malaria. One day, while she was delirious with high fevers, she had a vision of herself receiving an Oscar.
The fever subsided, but not the dream. As a result of that experience, Wilson decided to pursue an acting career, and education became an important cause for her.
"I think the work that St Jude does is important and amazing. I like that my donations are going directly to helping individuals at the school. Now that I am in a fortunate position it feels good to give back."