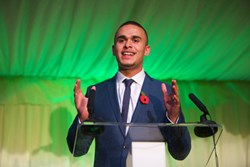 The things you are achieving today are noteworthy and will be a massive springboard and platform for what you do tomorrow.
Hornchurch, Greater London (PRWEB UK) 16 November 2013
Ashley, who was part of boy band The Risk in the 2011 series of X Factor, was the guest of honour at a prestigious awards ceremony for high achievers at the college.
Fostered from the age of two, Ashley had an unstable childhood moving between foster homes and children's homes and changing schools. Against the odds he showed his potential as a bright student and is a graduate of Cambridge University.
The 22-year-old addressed almost 100 award-winning students plus their families and friends at the Havering College Further Education Awards 2013 ceremony held in a marquee at the college's Ardleigh Green Campus in Hornchurch, Greater London.
Ashley told students: "The things you are achieving today are noteworthy and will be a massive springboard and platform for what you do tomorrow. I really want to encourage you to celebrate and everything you have achieved is awesome but onwards and upwards, and continue your success."
Additional star awards were presented to five students whose commitment and dedication to reaching their goals really stands out. They are:

Matthew Smith, 18, from Hornchurch, who is now working at the five star Park Lane Hotel in London after gaining a Level 3 Diploma in Professional Cookery
Alfie Adams, 20, from Elm Park, who gained a BTEC Level 3 Extended Diploma in Music Practice and is now a BA Music undergraduate at Coventry University
Lisa Pettitt, 18, from Romford, who gained a NVQ Level 3 qualification in Hairdressing and developed an innovative piece of equipment while on the course.
Abdul Punnakath, 20 from East Ham, a student on the English for Speakers of Other Languages course.
Jack Reilly, aged 17, from Dagenham, who has progressed to a Level 3 Bricklaying course despite sustaining serious injuries in a road accident.
Each received prizes of £50 generously sponsored by the Nat West Bank and Brentwood Chamber of Commerce.
The final award for the overall winner from across the college went to 20-year-old Paige Burns.
Paige, who studied a BTEC Extended Diploma in Performing Arts (Dance), has set up her own business, The Paige Amber School of Dance based in Chadwell St Mary, Essex.
Skidmarques – a specialist tyre and alignment company based in Hutton, Essex – sponsored her main prize which included a driving experience, a set of winter tyres and a £250 voucher towards branding artwork to help with business promotion.
Grays resident Paige said: "I really enjoyed studying at Havering College. My business is going well. I was delighted to be invited here to receive one award but to get the top prize as well is fantastic."
Earlier in the day Ashley John-Baptiste visited the college's Quarles Campus in Harold Hill where he spoke to the college's BA (Hons) Social Work undergraduates on his experience of growing up in the care system. He was also the guest speaker at a lunch in the college's Jubilee Restaurants attended by pupils and teachers from secondary schools across Havering and Brentwood.
Ashley related his reasons for quitting The X Factor show to the college's Media and Musical Theatre students.
Musical Theatre students Eden Bishop-Jones, 17, from Harold Hill and Lauren Ghost, 18, from Hornchurch, impressed the singer-songwriter with their talent when they performed solos at the awards ceremony.