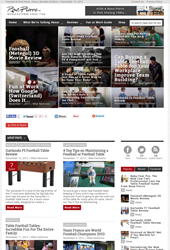 We want to make a difference to our customers, rather than just have a website with hundreds of products and no information on how to use them
Leeds, West Yorkshire (PRWEB UK) 19 November 2013
The days of simply taking out a subscription to an online ecommerce portal and expecting hoards of desperate consumers clogging up your server just because your company's products are 'online' have well and truly gone for good.
Now, high quality content that visitors to a website can read and interact with is what the search engines are looking for, and why not?
This is why American Billiard Company Ltd have taken the decision to launch a new stand-alone website for their Rene Pierre brand of table football tables and pool dining tables, that will focus entirely on providing interesting and relevant news, views, reviews, how to's and much more
American Billiard Company Director Mike Hemmins explains; "We've had a web presence since back in the days of Compuserve and 14k dial-up modems, so following the evolution of utilising the Internet in the best way for not only our businesses but the consumer too has always been a key process for us. We want to make a difference to our customers, rather than just have a website with hundreds of products and no information on how to use them and continue to enjoy their purchase for many years to come, hence the new blog site that gives visitors a wealth of original information simply not available anywhere else..."
The new Rene Pierre blog site already features many relevant articles with ideas on how to make the best use of existing space at home and work, interviews with key industry personalities providing a unique insight into how items such as foosball tables are produced and even film reviews!
Designed to be highly responsive for best use on both mobile and desktop devices, and tightly integrated with social recommendation tools, the new site should provide a useful and entertaining resource that customers can continue to come back to for answers to questions they may have, that wouldn't have been possible before.