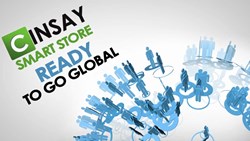 93% of marketing executives will use video for promoting, lead acquisition and ecommerce by 2014.
Austin, TX (PRWEB) November 14, 2013
Cinsay, the leader in video commerce technology, continues to see more adoption of its multi-patented Smart Store™ technology designed for small and medium sized businesses (SMBs). The syndicatable and transactional video is easily embedded into any web site, social media networks, and even into Facebook tabs and timelines. The additional audience reach through social network promoted posts has shown to significantly increase views, shares, comments and transactions within the video platform.
Other sites are showing success with presenting graphics and video as well. Earlier this week, HubSpot reported that twitter's new feed featuring images now viewable in users' timelines, contributed to as much as 50% increase in lead conversions. Previous statistics have shown video contributes to user engagement even more. Merchants have reported increased conversion rates double, triple and even quadruple for 'take actions' where viewers engage with video. eMarketer reports, over 93% of marketing executives have or will implement video within their company's marketing and commerce by 2014.
Many small businesses like J & P Specialty Clocks, are already taking advantage of the technology. Their small clock repair and unique store offering cuckoo and grandfather clocks experienced 50% increase in traffic thanks to the video Smart Store along with Cinsay's social media and PR marketing packages.
Mishakaudi Jewelry is another small retailer that recently added Cinsay's technology to their mix of marketing and ecommerce. Marissa Lewis, founder of the Spokane, Washington based store said, "We are excited to showcase our eclectic bohemian jewelry with this new video technology". The store saw transactions on the first day it launched on Cinsay's Marketplace.
Author and playwright, Barbara Hudson, used Cinsay's technology to create a buzz about her upcoming book and lectures on recovery. After launching her video and promotion, she was soon contacted by a television producer interested in her story. As of October, Barbara had just completed shooting a segment on her life story, which will be showcased by Oprah's TV network, OWN, later this November. "I love Cinsay!" Barbara said. Her upcoming book, "Faces Within The Mirror", will be featured in her Smart Store along with other branded merchandise.
Chocoland International is one recent merchant that has greatly benefitted from the social media campaigns stacked on top of the Smart Store technology and has added an English version of its Venezuelan chocolate business. Fernando Rodriguez, President of Chocoland International described his new business venture and the initial challenges they met selling into North America, "We always wanted to promote Venezuelan chocolates around the world. However, we didn't know how to reach our target."
Chocoland's launch and marketing campaign has resulted in a huge success. Even though the initial launch was in Spanish and targeted expats of Venezuela, the views and sales exceeded projections. The promotion was expanded by utilizing Facebook's powerful marketing tools and resulted in the Facebook boost reaching over 8,000 users and generated new likes and followers for the company's fan page. Within just two weeks from it's launch, the brand's Smart Store hit a 6.5% conversion of 'take actions' inside the video. Traditional industry eCommerce conversions average 1.8% and lower. Cinsay's ability to incorporate video directly into the store allows for instant point of purchase for items and services without ever taking viewers outside the video.
Within the last few months, Cinsay has established domestic and international licensing distribution agreements. Under those agreements Cinsay will deploy 2.5 million individual video commerce stores to telecommunication companies, digital media, merchant processing companies and other technology firms.
To learn more about how Cinsay's compelling video eCommerce technology and how businesses of all sizes can directly benefit from combining the Smart Store with the power of social media, visit the Cinsay page for SMBs or call 855-725-2462.
About Cinsay:
Austin-based Cinsay has created a next-generation e-commerce, viewer interactive, video-based platform for any size business. Cinsay's technology enables anyone to sell products, display printable coupons, capture donations, and generate leads all inside its patented Smart Store™ technology. One or more of the following patents may protect Cinsay's software, systems, and/or services. See http://www.cinsay.com/patents. U.S. Patent Nos. 8,312,486, 8,533,753 and 8,549,555 for interactive Internet-based video applications.
Forbes named Cinsay one of "America's Most Promising Companies" while eTail Conferences named Cinsay a "Rising Star" in innovation for 2012. Cinsay's eCommerce video-based platform can be used for any individual or business.