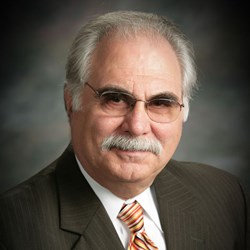 He set the foundation to keep improvements to our infrastructure moving forward. - Sherri LeBas, Secretary, Louisiana Department of Transportation and Development
Lafayette, LA (PRWEB) November 16, 2013
The journey began many years ago for Fenstermaker President, Dr. Kam Movassaghi, who was honored on November 13, 2013 as the 44th inductee into the prestigious Louisiana Highways & Transportation Hall of Honor. Movassaghi grew up in Tehran and arrived in the United States at the age of 19. His trip began with a bus ride from Iran to Turkey followed by a train ride on the Orient Express from Istanbul to Munich. Next, he traveled by sea from Germany to New York and finally, he took another train from New York to arrive at his final destination - Lafayette, La. Little did this teenage immigrant from Iran know at the time that his travels would take him further than he could dream. Movassaghi saw the opportunities this new land offered and with dedication, passion, and hard work, rose to become a Louisiana engineering icon and leader in academic, public service, civic and business circles.
Surrounded by colleagues, family, and friends, Kam Movassaghi, Ph.D., P.E., F.ASCE, was honored at a special induction ceremony at the Louisiana Department of Transportation and Development (DOTD) in Baton Rouge. Dr. Movassaghi's induction was unanimously endorsed by the six sponsoring organizations of the Hall of Honor: the Louisiana Department of Transportation and Development], Louisiana State Police, Louisiana Good Roads and Transportation Association, American Council of Engineering Companies of Louisiana, Louisiana Association of General Contractors and the Louisiana Engineering Society.
Throughout his career, Movassaghi has risen to achieve the status of a national leader and advocate for transportation in the academic, business and public service arenas. He currently serves as President of Fenstermaker, a multi-disciplinary firm in Lafayette, LA. Prior to this position, Movassaghi was the Secretary of DOTD from December 1998 until May 2004, leading a staff of 5,300 professionals and managing an annual budget of $1.3 billion. At DOTD, one of his greatest achievements was the development and implementation of a comprehensive management and financial plan to complete the 30-year, $3.5 billion TIMED statewide highway construction program within a 10 year period. The TIMED initiative was the single largest construction program in the history of LA DOTD.
Before his appointment as Secretary of DOTD, Dr. Movassaghi was head of the Civil Engineering Department at his alma mater, the University of Louisiana at Lafayette. Still very active in promoting engineering education, Dr. Movassaghi serves on UL's Civil Engineering Advisory Board and is a member of the LSU Civil and Environmental Engineering Advisory Board. In a separate honor, Dr. Movassaghi was elected to the LSU Engineering Department's Hall of Distinction.
Dr. Movassaghi is active in numerous community and professional organizations, including the Greater Lafayette Chamber of Commerce, where he served as chairman in 2009 and currently sits on the Board of Directors. He is a member of the Louisiana Good Roads and Transportation Association's Board of Directors. Dr. Movassaghi has chaired the AASHTO Design Subcommittee and Standing Committee on Research, and he has served as President of SASHTO. He has been inducted as an American Society of Civil Engineers Fellow, was recognized as the ASCE National Government Engineer of the Year and was executive director of the ground-breaking document, 2012 Report Card for Louisiana's Infrastructure. Dr. Movassaghi is one of only 18 individuals to receive ASCE's Francis C. Turner Award for contributions to the knowledge and practice of transportation engineering.
Dr. Movassaghi has served on the Transportation Research Board's Executive Committee for several years, and in 2011 was given a lifetime designation as a "National Associate" of the National Research Council (NRC) of the National Academies.
To learn more of the Louisiana Highways and Transportation Hall of Honor ceremony and to learn more about the accomplishments of Dr. Movassaghi view the article,"Former DOTD Chief Honored" published by The Advocate and written by Will Sentel.
Contributions to this article were made by Mr. Mark Lambert of Lambert Media in Baton Rouge, La.
***
Fenstermaker is a multi-disciplinary firm specializing in Engineering, Surveying, Environmental Consulting and Advanced Technologies such as Laser Scanning, Dimensional Control, and Underwater Acoustic Services. The firm's headquarters is in Lafayette, LA with offices in Baton Rouge, New Orleans, Shreveport, Houston, San Antonio and Montrose, PA.