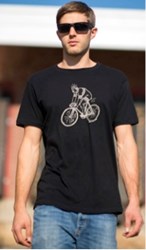 "New England has a history of manufacturing and clothing innovation," Renna explained. "Our effort to implement a cut and sew operation built on t-shirt takes inspiration from this long tradition."
Burlington, Vermont (PRWEB) November 14, 2013
Queen City Dry Goods founder, Matt Renna, has announced a fundraising presale effort of Vermont produced cotton t-shirts. The Queen City Dry Goods Vermont T-shirt Project aims to pattern, cut and sew a t-shirt entirely in Vermont.
"New England has a history of manufacturing and clothing innovation," Renna explained. "Our effort to implement a cut and sew operation built on t-shirt takes inspiration from this long tradition."
Renna launched Queen City Dry Goods, a specialty clothing line and clothing prototype lab in 2011. Working primarily in cotton, leather, waxed canvas and wool, Renna's work is defined by stylish and durable clothing. Early prototypes of his t-shirt were enthusiastically adopted by the staff of Hotel Vermont, a proof of concept that pushed Renna to reach for more backing. The Queen City Dry Goods t-shirt crowdfunding project has a goal of $10,000 by December 1st and offers early sales of the shirts to supporters.
Trends in garment manufacturing overseas, including recent uncertainties around worker conditions have prompted greater interest in American-made goods. "The presale, the funding of these shirts is something people want to be a part of," Renna continued, "Our raw cotton jersey is knit in the US, everything else from design to printing happens here in Vermont. That feels good." Queen City blank t-shirts will also be available for wholesale purchase, so businesses and screen-printers can print their company or event shirts on a Vermont made blank.
Those interested in supporting the initiative of Vermont-built t-shirts, can pre-order their shirts. For more information, please visit http://www.queencitydrygoods.com.
######