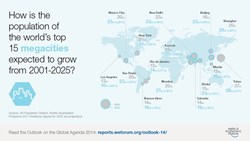 Oxford, Oxfordshire (PRWEB UK) 15 November 2013
A team of students and alumni from Saïd Business School at the University of Oxford were at the centre of a project to redesign the methodology and structure of the World Economic Forum's Outlook on the Global Agenda 2014 report, the annual flagship publication of the Network of Global Agenda Councils, which is published today. The Outlook highlights the issues facing today's global leaders and provides new perspectives on the increasingly complex questions facing society.
Saïd Business School began a process of consultation with the Forum in late 2012. Three current MBA students, two doctoral students and two alumni broadly, diverse in professional expertise and personal experience, worked over several months with the Global Agenda Council team based in Geneva, Switzerland. The remit was to re-evaluate the design and methodology of the Survey on the Global Agenda (the Global Agenda Council's annual research product) and make recommendations on the structure of the report – the Outlook on the Global Agenda. Previously created as two separate products, the group's first recommendation was that the WEF combine the Survey and Outlook into one powerful report that would be redesigned and reconceived to identify the most pressing global issues and to begin to map the interconnected nature of the challenges.
"Students on the Oxford MBA learn to critically evaluate how the world is changing and the issues and challenges this presents to business, economies and societies," said Stephan Chambers, MBA Director at Saïd Business School. "As an example last year we launched GOTO (Global Opportunities and Threats Oxford), a dynamic online problem-solving platform that brings together Oxford academics, MBA and EMBA students and alumni, to form a community that works collaboratively to generate ideas, produce high-level content and action plans focused on addressing big intractable issues such as demographic changes, big data or scarcity of resources. It's this deep thinking on critical global issues that makes our students attractive to high impact global agencies."
The team began with a strategic assessment of the World Economic Forum's global thought leader network and concluded that the survey should be more comprehensive and more specific than it had previously been, to incorporate not only key global trends, but investigate why they matter, who they affect and – perhaps most importantly – who should address them. They proposed a survey design that enabled them to dig deeper into the key issues and collected insights from over 1,500 global experts from the Forum's Network of 86 Global Agenda Councils. The response rate to the survey increased by 81% on the previous year and included responses from 112 countries providing a rich, robust qualitative and quantitative dataset that supports a pilot round of regional analyses of the data.
The Outlook ranks the Top 10 trends for global leaders in 2014 such as the rise in societal tensions in the Middle East and North Africa, widening income disparities and persistent structural unemployment that are all set to dominate leader's agendas in 2014. The report also highlights the complexities and interdependencies between challenges on a global and regional level, with the aim of helping leaders and policymakers formulate effective responses.
'Global leadership is a distinctive and critical skill set,' said Elizabeth Filippouli, Oxford MBA alumna who worked on the project, and Founder/CEO, Global Thinkers. 'The World Economic Forum-Oxford project was a chance to see how this kind of expertise works in practice across a wide range of sectors. I was especially glad to see the powerful insights coming from colleagues in MENA and other emerging geographies.'
The Outlook on the Global Agenda 2014 will be launched on Friday 15th November at the Forum's headquarters in Geneva, Switzerland. Marc Ventresca, Academic Lead for the Oxford project team, and Stephan Chambers, MBA Director will be at the Forum's Summit on the Global Agenda, 18-20 November, in the United Arab Emirates. They will be joined by team members Jennifer Walker and Nithum Thain, and are available for comment.
Download the full report at: http://reports.weforum.org/outlook-14/
Notes to editors
The Oxford Consulting Team
MBA alumni: Jennifer Walker, Thomas Kelley, Katja Ponath, and Nithum Thain.
Diploma alumna: Elizabeth Filippouli
Oxford DPhils: Nicholas Chesterley (DPhil, economics) and Veyna daSilva (DPhil, Anthropology)
About Saïd Business School
Saïd Business School at the University of Oxford blends the best of new and old. We are a vibrant and innovative business school, but yet deeply embedded in an 800 year old world-class university. We create programmes and ideas that have global impact. We educate people for successful business careers, and as a community seek to tackle world-scale problems. We deliver cutting-edge programmes and ground-breaking research that transform individuals, organisations, business practice, and society. We seek to be a world-class business school community, embedded in a world-class University, tackling world-scale problems.
In the Financial Times European Business School ranking (Dec 2012) Saïd is ranked 12th. It is ranked 13th worldwide in the FT's combined ranking of Executive Education programmes (May 2013) and 24th in the world in the FT ranking of MBA programmes (Jan 2013). The MBA is ranked 5th in Businessweek's full time MBA ranking outside the USA (Nov 2012) and is ranked 5th among the top non-US Business Schools by Forbes magazine (Sep 2013). The Executive MBA is ranked 23rd worldwide in the FT's ranking of EMBAs (Oct 2013). The Oxford MSc in Financial Economics is ranked 6th in the world in the FT ranking of Masters in Finance programmes (Jun 2013). In the UK university league tables it is ranked first of all UK universities for undergraduate business and management in The Guardian (Jun 2013) and has ranked first in nine of the last ten years in The Times (Sept 2013). For more information, see http://www.sbs.ox.ac.uk/
About The World Economic Forum
The World Economic Forum is an independent international organization committed to improving the state of the world by engaging business,political, academic and other leaders of society to shape global, regional and industry agendas. Incorporated as a not-for-profit foundation in 1971 and headquartered in Geneva, Switzerland, the Forum is tied to no political, partisan or national interests (http://www.weforum.org).
ENDS