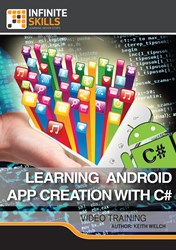 Learn how to create an Android App using C# at your own pace.
(PRWEB) November 15, 2013
Software training firm Infinite Skills Inc. this week introduced its "Android App Creation with C# Tutorial," a beginner-level course offering specialized training in using the Mono cross-platform developer framework, which allows programmers to use C# to create apps for the Android mobile operating system.
Android shares domination of the mobile operating system market with iOS, and currently holds the lead in sales. While many app development usually occurs through Java, the Mono cross-platform framework allows programmers to use C# to create Android apps.
Infinite Skills "Android App Creation with C# Tutorial" explores some fundamental tools and techniques for working with Mono and C# by guiding users through the creation of a basic social networking app.
Android App Creation with C# Video Tutorial - Streaming
Course author Keith Welch has spent more than 30 years working in the software industry, with 10 years working in .NET technologies, and the last 10 years focusing on mobile development. His many proficiencies include Android, Windows Mobile, ASP.NET, and more. Welch currently specializes in mobile developer tools, development consulting, and app development.
Welch organizes the course around the creation of a social networking app, starting with building a user interface by working with views and layouts. The course then moves into interface widgets, where Welch explains how to create text and edit views, buttons, checkboxes, and more interface elements.
He then explains working with services, working with data, and how to include social network elements such as contacts and photo sharing.
The course closes with chapters on including messaging services in the app, and how to sync with a server to retrieve and upload photos.
"In the process of building the app, we'll see a lot of features of the Android operating system," Welch explains. "We'll get comfortable with the programming environment that mono provides in visual studio."
Free demo videos and a full list of course contents can be found on the Android App Creation with C# training page of the Infinite Skills website:
http://www.infiniteskills.com/training/android-app-creation-with-c-sharp.html
Infinite Skills offers its Android App Creation with C# Training Video as a direct download from the company website at a retail price of $24.95. Though the compatibility of programs varies, all Infinite Skills titles and formats are compatible with both Mac and Windows operating systems, and shipping is available around the globe. Additionally, Infinite Skills tutorials are supported by project files which correspond to examples in the videos.
About Infinite Skills Inc.
A leader in the field of software training, Infinite Skills designs its courses on a task-oriented model, teaching complex skills by providing hands-on examples and guiding users as they carry out essential functions. Infinite Skills offers a wide range of software titles available as DVDs, digital downloads, and in iPad editions. Infinite Skills now offers a subscription service, providing access to all its training content for a monthly fee, keeping with company's aim of delivering professional training to customers anywhere they want to learn.