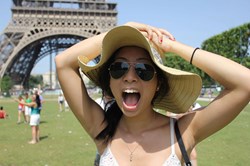 19.4% of responded that they don't have an iPhone.
New York, NY (PRWEB) November 19, 2013
As customers flock to buy the new iPhone 5c and 5s, the marketing team at IT New York pondered, "What would make New Yorkers get the latest version of the iPhone when the last one came out so recently? Is it merely because they have the money to buy one or are there larger motives at work?" According to Apple's website new iPhone website (http://www.apple.com/iphone-5s/), "Forward Thinking," the iPhone 5s is more useful than hype. "It's not a product that is of what's technologically possible. But what's technologically useful as well. It's not just what's next, but what should be next." In addition to describing how technologically advanced the new iPhone is, the Apple website goes on to say on their site, "iPhone 5 set a precedent, with an amazing amount of technology in a remarkably thin, light design. iPhone 5s builds on that achievement with Touch ID — fingerprint identity sensors, an A7 chip with 64-bit architecture, and an even more impressive iSight camera, and ultrafast LTE wireless."
IT New York's marketing analyst questioned how consumers felt about the new iPhone release. So, IT New York surveyed roughly 1,000 people. The survey was comprised of mainly New Yorkers and New York University (NYU) students with the majority of the demographic identifying as females between the ages of 18-25. The results showed stark differences in how people feel and reacted to the release of the newest iPhone craze. IT New York's employees asked a variety of questions including an attempt to identify how many of the surveyors currently used an iPhone with their cellular service provider. Of the responses 19.4% responded that they do not currently have an iPhone. iPhones have the capability to be a more comprehensive version of the existing smart phones, and therefore there may be a justification in cost differential. 80.6% of the test group was iPhone users. Most of the focus group reaction indicated that they did like their iPhones because of their ease of use.
IT New York also asked in its survey to rate their satisfaction with five stars being excellent. People rated their iPhone experience out of 5 stars, and the average was approximately 4.5 stars. People who had responded that they currently own (roughly 80%) stated that they would buy an iPhone owners said they would buy the next iPhone and cited reasons behind their decision as a matter of convenience and economical positioning. One surveyor articulated why all the current iPhone users did not plan on buying the next iPhone, "I'm not planning to buy the next iPhone because I can't afford it. But if I could I would buy the next iPhone because Apple always seems to surprise buyers with their new ideas on making iPhones more high tech and fun to use. Apple makes iPhones that make buyers think 'wow this more than just a phone; it's everything in one.' I have an iPhone but it's the 4 not the 5 or 5s or 5c. I can't afford either."
Users of iPhones who plan on buying the iPhone 5 ranged from being adamant Apple fans to seeing a new iPhone as a necessity. Some answers cited the technical innovations like the "interface, usability, firmware and hardware advancements." Another cites that he does not believe that being a student and an entrepreneur would be possible without the use of his iPhone. Numerous responses from NYU students indicated similar sentiments. Others discussed how it's "cool" to own an iPhone. A particular fan of Apple said, "Looking forward to the new screen size (or so they say), and I'm just generally a huge fan of Jonathan Ivy's designs."
IT New York's survey concluded that the majority of New Yorkers between the ages of 18-30 are Apple fans and a majority indicated that they would likely purchase the next release if they are capable of it. Apple fans that have purchased the phones are able to sync it with their other Apple devices because of the compatibility and design of the phone. IT New York recently held an iPhone 5s contest where the winner would have an opportunity to win a new iPhone 5s phone and test the new functionality features and redesign. Angel Xu won the most recent contest sponsored by IT New York. Angel cites, "I am excited to win the contest in the IT New York iPhone 5s giveaway. I've had my eye on it for a while."
IT New York has received tons of positive feedback from Android users who recently switched to Apple or the iPhone platforms. A small number (33%) of the 19.4% android users who were surveyed that did not currently own iPhones had no intentions of buying them and ranged in opinions. 5.5% of the people surveyed stated that they still would not own an iPhone if they were able to do so. Therefore the IT New York survey also concluded that the majority of the population preferred iPhones and would purchase the next iPhone.
For more information on IT New York services or upcoming contest visit the website http://www.it-newyork.com. Michael Good who is an expert in web and cyber securities also has a team comprised of Certified Ethical Hackers (CEH), Computer Hacking Forensic Investigators (CHFI), Certified Information Systems Security Professionals (CISSP), and Certified Information Systems Auditors (CISA). For all media, press, features, or special contributor opportunities please contact Royal Kingdom PR at 206-203-1818 or contact via email at royalkingdompr(at)gmail(dot)com.
About IT New York: IT New York formed in 2011 with offices in New York City, the D.C. Metro Area, and internationally in India was founded by serial entrepreneur Michael Good. IT New York is a full service information technology firm that provides tailored round-the-clock support software designing and development, web security, SEO services, marketing, and remote administration. IT New York boasts high profiled and lucrative clients such as software companies, hedge funds, venture capital firms, and marketing agencies. For more information on IT New York please visit http://www.it-newyork.com. Please direct all media/press inquiries to Royal Kingdom PR Agency, Inc. at royalkingdompr(at)gmail(dot)com or by phone at 206-203-1818.