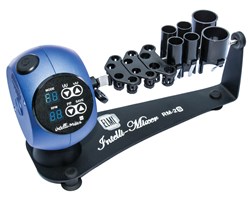 Vernon Hills, IL (PRWEB) November 14, 2013
Powered by V-Spin technology, the Intelli-Mixer RM-2 from Cole-Parmer employs the newest science to expand mixing options as well as replicate user motions. The multifunctional mixer features 15 mixing, 12 rocking, four blotting, and three custom modes to deliver exceptional mixing performance.
The mixer maximizes efficiency by carrying out a variety of mixing in 0.5 to 50 mL tubes or simultaneously vortexing up to 42 tubes with two different frequencies. It achieves consistent, reliable, and reproducible rocking with a speed controller that automatically alternates between rpm and shakes per minute for precise control. Its ultrasonic vibration blotting modes are specifically designed for Western blot protocol. Users can design their own custom combination of mixing, rotating, and pausing by holding the rack and rotating it in any direction and any angle. Every move is saved in memory for future repetition.
This versatile lab mixer is available in small, medium, and large sizes. To view the Intelli-Mixer RM-2 Rotator/Vortex Shaker from Cole-Parmer, go to ColeParmer.com/20670 or call 800-323-4340 for more information.
Cole-Parmer has been a leading global source of laboratory and industrial fluid handling products, instrumentation, equipment, and supplies since 1955. Our product lines, including popular brand names such as Masterflex®, Oakton®, and more, are sold through company-owned customer channel outlets and a strong network of international dealers. We also feature an ISO-17025-accredited metrology lab for instrument calibration and repair. Cole-Parmer responds with excellence to customer needs, and offers application expertise and technical support. For more information, contact Cole-Parmer, 625 East Bunker Court, Vernon Hills, IL 60061. In the US, call 800-323-4340. International customers, call 847-549-7600. Visit us at http://www.coleparmer.com