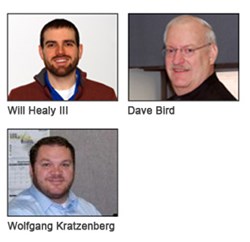 Florence, KY (PRWEB) November 15, 2013
Balluff metal forming and welding experts, David Bird, Will Healy, and Wolfgang Kratzenberg will be presenting on the topic of Traceability and Production Efficiency at FABTECH on Wednesday, November 20 from 10:30 am to 12:30 pm in room S405A.
FABTECH, taking place November 18-21 in Chicago, Illinois at the McCormick Place, is North America's largest metal forming, fabricating, welding and finishing event. FABTECH offers over 100 educational programs featuring technical, operational, economic, and managerial sessions.
Traceability in Metal Forming Using RFID Technologies:
Gain a tighter control of work in progress by using industrially robust RFID Systems comprised of data carriers, a.k.a. "code tags", read heads and processors (serial, parallel and bus networked systems). This session will examine the following target areas in the world of metal forming: 1. Asset Tracking: Plant based assets 2. Material Flow (Kanban): right sized containers 3. Production Control of work in progress: assembly processes 4. Intra Logistic: material flow between plants.
(Presenters: David Bird and Wolfgang Kratzenberg, Balluff, Inc.)
Increasing Production Efficiency Using Machine Mount & Distributed I/O:
This presentation focuses on the use of IP67 rated I/O products communicating over industrial networks like EtherNet/IP, DeviceNet PROFIBUS, etc. This session covers how Ethernet I/O can improve the production visibility throughout the plant down to the individual sensor. In addition, the pains felt when setting up the press for a run or when a die is changed out; specifically focusing on technologies that can improve data tracking and identification of the tooling as well as I/O products that allow for easy connection of in-die sensing will be discussed.
(Presenter: Will Healy III, Balluff, Inc.)
Visit Balluff at FABTECH in booth# S4343. And see the Balluff experts talk on the topic of Traceability and Production Efficiency November 20 at 10:30AM in Room S405A.
Learn more about Balluff at http://www.balluff.us.
Learn more about the FABTECH event and see a complete listing of educational sessions at: http://www.fabtechexpo.com.