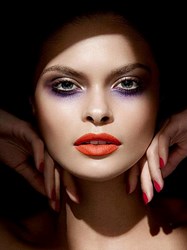 Dare to be Pretty
Buffalo, NY (PRWEB) December 09, 2013
Outlasting the competition is always the goal, but in the world of competitive cheerleading and dance it is not only about the performance, it is about your stage presence as well. As soon as cheer and dance competition is over, teams jump into planning mode for next season. It takes a lot of planning to bring a routine to the mat.
Choosing a high quality performance makeup begins months before competition season. Quality, cost and delivery are always factors in a team's decision, but above all is ease of use and wearability. Competition day is hectic, stage performers need a makeup application that will last all day and look professional. There is always concern about eye shadow wearability and lip stick staining uniforms or costumes. Contact Pretty Girl Cosmetics today to discuss your teams makeup needs and customize a makeup kit that will need your requirements.
To keep up with trends Pretty Girl Cosmetics is constantly releasing new products based on customer demands. The newest products released this season are three colors of lip stain, Perfectly Pink, Radical Red and Razzy Raspberry. These high pigment lip stains are indelible and have clear lip gloss base included for a shiny finish. Apply these lip stains once for a perfect stay put pout on competition day.
For a stay perfect pout, here are some tips on how to apply lip stain.
1. Exfoliate lips by rubbing with a wash cloth to remove all dry skin. Lip Stain will stain dry skin darker and give an uneven color application. The key to great lip color is exfoliating prior to application.
2. Apply the lip stain on your upper lip first. Start from the center of the lip and work your way out towards the corner contouring your lip line. Do this on both sides and then the bottom lip.
3. Make sure to apply the stain in even layers and it's best to go in one direction only, not back and forth. Be very careful not to go beyond your lip line or you will have stain outside your lip line.
4. Apply thin coats of stain until you reach the desired intensity. Let the color set and dry completely between each coat. Let thoroughly dry. Pat lips with clean dry Kleenex to remove excess prior to applying gloss.
5. Then apply the clear lip gloss top coat for a perfect, shiny, "stay put" pout.
6. To remove, use a makeup remover on a cotton ball. Rub lips gently to remove stain. Can also be removed with facial cleanser and water.
For more information about Pretty Girl Cosmetics and for a free team consultation, visit http://www.prettygirlcosmetics.com/ or contact Colleen at cheeranddancemakeup(at)gmail(dot)com.
About Pretty Girl Cosmetics:
A dedicated supplier of performance make-up and cosmetic solutions to dance and cheer teams across the US, Pretty Girl Cosmetics specializes in highly pigmented stage make-up that is gentle to skin and will enhance the appearance of any cheer or dance squad.