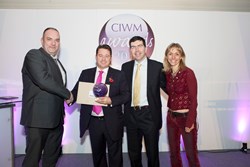 (PRWEB UK) 16 November 2013
Efficient materials separation stole this year's Vehicle, Plant and Equipment of the Year Award, sponsored by Hopdeals.com. The Max X Tract density separator from Worsley Plant was chosen because of its ability to separate a number of waste streams and extract materials with a market value, "giving significant financial benefits and offering environmental advantages" according to the judges.
A wide range of companies across the industrial spectrum, as well as councils, public sector organisations and individuals, scooped prizes at the 2013 CIWM Awards for Environmental Excellence, which recognise and reward companies that have introduced successful measures to reduce their environmental impact through more sustainable waste and resource management.
The judges for the CIWM Excellence Awards 2013 included John Ingham, environment editor of the Daily Express, Gemma Clinton, vice chair of the Local Authority Recycling Advisory Committee, Marcus Gover, director of market development for WRAP, Mohamed Osmani, chair of CIRIA's Sustainability Advisory Panel and senior lecturer at Loughborough University, and Stephen Didsbury, Head of Waste & Street Services for London Borough of Bexley.
Sean Heron, Worsley Plant's Managing Director said: "We are delighted to have won this award. It is a well-deserved win for The Max X Tract density separator, which is unrivalled in its ability to extract material with a market value. It uses the latest technology in material separation and is helping businesses who manage large volumes of waste material to extract valuable material including -8mm trommel fines which in turn is reducing the amount of waste sent to landfill."
"For all our customers who we work with since its launch last year, we are helping them generate extra revenue through trading of those commodities, whilst reducing waste disposal costs associated with landfill tax and at the same time boosting environmental performance."
Worsley Plant supplies the most comprehensive range of attachment based, crushers and separators, as well as density separation equipment in the waste and recycling industry. All their equipment is available for sale or hire across the UK, and demos can be arranged.
Find out more, or arrange a demo visit http://www.worsleyplant.co.uk or call us on 01606 835544.