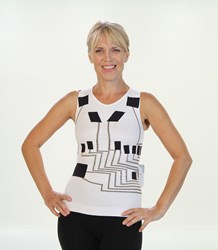 HealthWatch: Restoring the "wear" into wearable technology.
Tel Aviv, Israel (PRWEB) November 16, 2013
In its world debut, HealthWatch Ltd. announces hWear™ -- a revolutionary digital, heart-sensing garment incorporating interwoven textile electrodes for continuous monitoring of hospital quality, 15-lead ECGs. These t-shirt garments will be demonstrated in action at the company's booth during the Medica show in Dusseldorf (Hall 3 booth E20) communicating in real-time to actual smartphone applications.
Designed by textile experts, hWear™ t-shirt garments measure the highest quality vital signs all without adhesives, gels, or shaving preparations for both men and women. The garments are machine washable and compatible with most cardiac telemetry systems. They are CE and FDA registered.
"We are restoring the 'wear' into wearable technology," said Uri Amir, CEO of HealthWatch Ltd. "Unlike other products that report only heart rate, our new healthwear garment is a true medical device monitoring full 15-lead ECGs along with other physiological vital signals. It will change the future of personal monitoring offering around-the-clock peace of mind to users -- wherever their lifestyle takes them."
Utilized in conjunction with the MasterCaution® family of products, users can enjoy state-of-the-art technology for real-time alerts providing mobile and cloud-based communications to detect cardiac events such as arrhythmias, ischemia, respiratory abnormalities, and sudden patient falls or prolonged immobility. The eHealth and mHealth industries can now deploy intensive-care telemonitoring without affecting the lifestyle of its users ranging from patients within a hospital environment, to homecare settings, to heart attack survivors, to the active elderly seeking better coverage of their health, or to any other users wishing to have direct contact with their expert physician of choice from around the world.
About HealthWatch Ltd.
HealthWatch is dedicated to securing personal health through comfortable, smart digital textile garments providing hospital quality vital signs for continuous telemonitoring and alerts. For a Medica preview of the HealthWatch hWear™ garment in action click this link: http://www.youtube.com/watch?v=kA4F3EMsJc4.